(source)

Arthur Cayley

(16 Aug 1821 - 26 Jan 1895)




Science Quotes by Arthur Cayley
(6 quotes)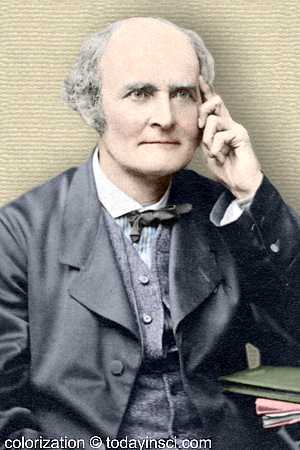 As for everything else, so for a mathematical theory: beauty can be perceived but not explained.

— Arthur Cayley

Euclid avoids it [the treatment of the infinite]; in modern mathematics it is systematically introduced, for only then is generality obtained.

— Arthur Cayley

In Euclid each proposition stands by itself; its connection with others is never indicated; the leading ideas contained in its proof are not stated; general principles do not exist. In modern methods, on the other hand, the greatest importance is attached to the leading thoughts which pervade the whole; and general principles, which bring whole groups of theorems under one aspect, are given rather than separate propositions. The whole tendency is toward generalization. A straight line is considered as given in its entirety, extending both ways to infinity, while Euclid is very careful never to admit anything but finite quantities. The treatment of the infinite is in fact another fundamental difference between the two methods. Euclid avoids it, in modern mathematics it is systematically introduced, for only thus is generality obtained.

— Arthur Cayley

It is difficult to give an idea of the vast extent of modern mathematics. The word "extent" is not the right one: I mean extent crowded with beautiful detail—not an extent of mere uniformity such as an objectless plain, but of a tract of beautiful country seen at first in the distance, but which will bear to be rambled through and studied in every detail of hillside and valley, stream, rock, wood, and flower.

— Arthur Cayley

Metrical geometry is thus a part of descriptive geometry, and descriptive geometry is all geometry.
[Regarding merging both into projective geometry.]

— Arthur Cayley

The notion, which is really the fundamental one (and I cannot too strongly emphasise the assertion), underlying and pervading the whole of modern analysis and geometry, is that of imaginary magnitude in analysis and of imaginary space in geometry.

— Arthur Cayley

---
Quotes by others about Arthur Cayley (11)
J. J. Sylvester was an enthusiastic supporter of reform [in the teaching of geometry]. The difference in attitude on this question between the two foremost British mathematicians, J. J. Sylvester, the algebraist, and Arthur Cayley, the algebraist and geometer, was grotesque. Sylvester wished to bury Euclid "deeper than e'er plummet sounded" out of the schoolboy's reach; Cayley, an ardent admirer of Euclid, desired the retention of Simson's Euclid. When reminded that this treatise was a mixture of Euclid and Simson, Cayley suggested striking out Simson's additions and keeping strictly to the original treatise.

The mathematical talent of Cayley was characterized by clearness and extreme elegance of analytical form; it was re-enforced by an incomparable capacity for work which has caused the distinguished scholar to be compared with Cauchy.

Mr. Cayley, of whom it may be so truly said, whether the matter he takes in hand be great or small, "nihil tetigit quod non ornavit," …

Professor Cayley has since informed me that the theorem about whose origin I was in doubt, will be found in Schläfli's De Eliminatione. This is not the first unconscious plagiarism I have been guilty of towards this eminent man whose friendship I am proud to claim. A more glaring case occurs in a note by me in the Comptes Rendus, on the twenty-seven straight lines of cubic surfaces, where I believe I have followed (like one walking in his sleep), down to the very nomenclature and notation, the substance of a portion of a paper inserted by Schlafli in the Mathematical Journal, which bears my name as one of the editors upon the face.

Tait once urged the advantage of Quaternions on Cayley (who never used them), saying: "You know Quaternions are just like a pocket-map." "That may be," replied Cayley, "but you've got to take it out of your pocket, and unfold it, before it's of any use." And he dismissed the subject with a smile.

He [Sylvester] had one remarkable peculiarity. He seldom remembered theorems, propositions, etc., but had always to deduce them when he wished to use them. In this he was the very antithesis of Cayley, who was thoroughly conversant with everything that had been done in every branch of mathematics.
I remember once submitting to Sylvester some investigations that I had been engaged on, and he immediately denied my first statement, saying that such a proposition had never been heard of, let alone proved. To his astonishment, I showed him a paper of his own in which he had proved the proposition; in fact, I believe the object of his paper had been the very proof which was so strange to him.

Cayley was singularly learned in the work of other men, and catholic in his range of knowledge. Yet he did not read a memoir completely through: his custom was to read only so much as would enable him to grasp the meaning of the symbols and understand its scope. The main result would then become to him a subject of investigation: he would establish it (or test it) by algebraic analysis and, not infrequently, develop it so to obtain other results. This faculty of grasping and testing rapidly the work of others, together with his great knowledge, made him an invaluable referee; his services in this capacity were used through a long series of years by a number of societies to which he was almost in the position of standing mathematical advisor.

Bertrand, Darboux, and Glaisher have compared Cayley to Euler, alike for his range, his analytical power, and, not least, for his prolific production of new views and fertile theories. There is hardly a subject in the whole of pure mathematics at which he has not worked.

When Cayley had reached his most advanced generalizations he proceeded to establish them directly by some method or other, though he seldom gave the clue by which they had first been obtained: a proceeding which does not tend to make his papers easy reading. …
His literary style is direct, simple and clear. His legal training had an influence, not merely upon his mode of arrangement but also upon his expression; the result is that his papers are severe and present a curious contrast to the luxuriant enthusiasm which pervades so many of Sylvester's papers. He used to prepare his work for publication as soon as he carried his investigations in any subject far enough for his immediate purpose. … A paper once written out was promptly sent for publication; this practice he maintained throughout life. … The consequence is that he has left few arrears of unfinished or unpublished papers; his work has been given by himself to the world.

If we survey the mathematical works of Sylvester, we recognize indeed a considerable abundance, but in contradistinction to Cayley—not a versatility toward separate fields, but, with few exceptions—a confinement to arithmetic-algebraic branches. …
The concept of Function of a continuous variable, the fundamental concept of modern mathematics, plays no role, is indeed scarcely mentioned in the entire work of Sylvester—Sylvester was combinatorist [combinatoriker].

It is not Cayley's way to analyze concepts into their ultimate elements. … But he is master of the empirical utilization of the material: in the way he combines it to form a single abstract concept which he generalizes and then subjects to computative tests, in the way the newly acquired data are made to yield at a single stroke the general comprehensive idea to the subsequent numerical verification of which years of labor are devoted. Cayley is thus the natural philosopher among mathematicians.

See also:
16 Aug - short biography, births, deaths and events on date of Cayley's birth.
Large color picture of Arthur Cayley (800 x 1200 px)