Restrictive Quotes (4 quotes)
Alcoholism, the opium habit and tobaccoism are a trio of poison habits which have been weighty handicaps to human progress during the last three centuries. In the United States, the subtle spell of opium has been broken by restrictive legislation; the grip of the rum demon has been loosened by the Prohibition Amendment to the Constitution, but the tobacco habit still maintains its strangle-hold and more than one hundred million victims of tobaccoism daily burn incense to the smoke god.

I believe that the Dayton trial marked the beginning of the decline of fundamentalism. … I feel that restrictive legislation on academic freedom is forever a thing of the past, that religion and science may now address one another in an atmosphere of mutual respect and of a common quest for truth. I like to think that the Dayton trial had some part in bringing to birth this new era.

Quantum mechanics and relativity, taken together, are extraordinarily restrictive, and they therefore provide us with a great logical machine. We can explore with our minds any number of possible universes consisting of all kinds of mythical particles and interactions, but all except a very few can be rejected on a priori grounds because they are not simultaneously consistent with special relativity and quantum mechanics. Hopefully in the end we will find that only one theory is consistent with both and that theory will determine the nature of our particular universe.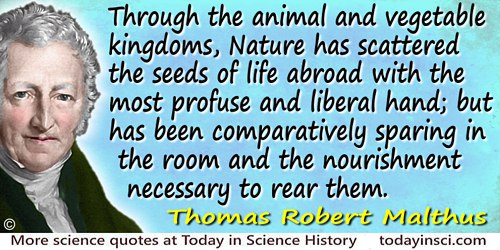 Through the animal and vegetable kingdoms, Nature has scattered the seeds of life abroad with the most profuse and liberal hand; but has been comparatively sparing in the room and the nourishment necessary to rear them. The germs of existence contained in this spot of earth, if they could freely develop themselves, would fill millions of worlds in the course of a few thousand years. Necessity, that imperious all-pervading law of nature, restrains them within the prescribed bounds. The race of plants and the race of animals shrink under this great restrictive law; and man cannot by any efforts of reason escape from it.