Scopes Monkey Trial Quotes (8 quotes)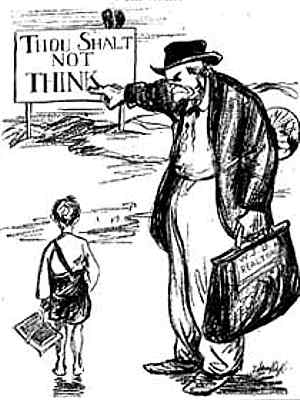 "The Verdict"
He leads a new crusade, his bald head glistening... One somehow pities him, despite his so palpable imbecilities... But let no one, laughing at him, underestimate the magic that lies in his black, malignant eye, his frayed but still eloquent voice. He can shake and inflame these poor ignoramuses as no other man among us...
[Describing William Jennings Bryan, orator, at the Scopes Monkey Trial.]

I believe that the Dayton trial marked the beginning of the decline of fundamentalism. … I feel that restrictive legislation on academic freedom is forever a thing of the past, that religion and science may now address one another in an atmosphere of mutual respect and of a common quest for truth. I like to think that the Dayton trial had some part in bringing to birth this new era.

I furnished the body that was needed to sit in the defendant's chair. [Explaining his role in the Scopes Monkey Trial.]

I think this case will be remembered because it is the first case of this sort since we stopped trying people in America for witchcraft, because here we have done our best to turn back the tide that has sought to force itself upon this modern world, of testing every fact in science by a religious dictum.

Let no one mistake it for comedy, farcical though it may be in all its details. It serves notice on the country that Neanderthal man is organizing in these forlorn backwaters of the land, led by a fanatic, rid of sense and devoid of conscience.
[Commenting on the Scopes Monkey Trial, while reporting for the Baltimore Sun.]

Many times I have been asked why I have had no further role to play relative to the issues—even why I did not at least capitalize on my publicity and reap the monetary harvest that was close at hand. Perhaps my best answer is to paraphrase Calvin Coolidge's "I do not choose to run", for me it would be, "I did not choose to do so."

Paris ... On this side of the ocean it is difficult to understand the susceptibility of American citizens on the subject and precisely why they should so stubbornly cling to the biblical version. It is said in Genesis the first man came from mud and mud is not anything very clean. In any case if the Darwinian hypothesis should irritate any one it should only be the monkey. The monkey is an innocent animal—a vegetarian by birth. He never placed God on a cross, knows nothing of the art of war, does not practice lynch law and never dreams of assassinating his fellow beings. The day when science definitely recognizes him as the father of the human race the monkey will have no occasion to be proud of his descendants. That is why it must be concluded that the American Association which is prosecuting the teacher of evolution can be no other than the Society for Prevention of Cruelty to Animals.
[A cynical article in the French press on the Scopes Monkey Trial, whether it will decide "a monkey or Adam was the grandfather of Uncle Sam."]

There is, it appears, a conspiracy of scientists afoot. Their purpose is to break down religion, propagate immorality, and so reduce mankind to the level of brutes. They are the sworn and sinister agents of Beelzebub, who yearns to conquer the world, and has his eye especially upon Tennessee.
[Report on the Scopes Monkey Trial.]