Underlie Quotes (4 quotes)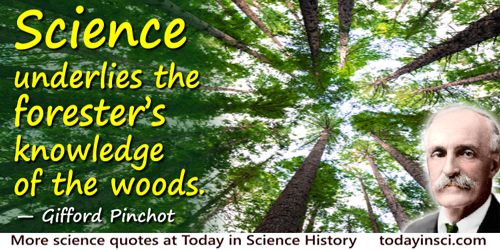 How to start on my adventure—how to become a forester—was not so simple. There were no schools of Forestry in America. … Whoever turned his mind toward Forestry in those days thought little about the forest itself and more about its influences, and about its influence on rainfall first of all. So I took a course in meteorology, which has to do with weather and climate. and another in botany, which has to do with the vegetable kingdom—trees are unquestionably vegetable. And another in geology, for forests grow out of the earth. Also I took a course in astronomy, for it is the sun which makes trees grow. All of which is as it should be, because science underlies the forester's knowledge of the woods. So far I was headed right. But as for Forestry itself, there wasn't even a suspicion of it at Yale. The time for teaching Forestry as a profession was years away.

The process of self-estrangement and its removal underlies all education. The mind must fix its attention upon what is alien to it and penetrate its disguise, making it become familiar. … Wonder is only the first stage of this estrangement. It must be followed by recognition.

We lay down a fundamental principle of generalization by abstraction: The existence of analogies between central features of various theories implies the existence of a general theory which underlies the particular theories and unifies them with respect to those central features.

When the child outgrows the narrow circle of family life … then comes the period of the school, whose object is to initiate him into the technicalities of intercommunication with his fellow-men, and to familiarize him with the ideas that underlie his civilization, and which he must use as tools of thought if he would observe and understand the phases of human life around him; for these … are invisible to the human being who has not the aid of elementary ideas with which to see them.