Underlie Quotes (6 quotes)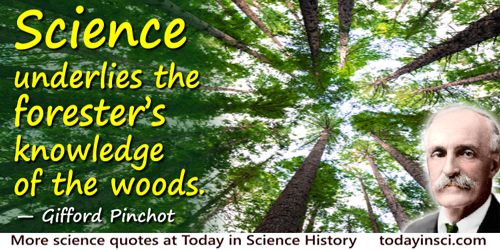 How to start on my adventure—how to become a forester—was not so simple. There were no schools of Forestry in America. … Whoever turned his mind toward Forestry in those days thought little about the forest itself and more about its influences, and about its influence on rainfall first of all. So I took a course in meteorology, which has to do with weather and climate. and another in botany, which has to do with the vegetable kingdom—trees are unquestionably vegetable. And another in geology, for forests grow out of the earth. Also I took a course in astronomy, for it is the sun which makes trees grow. All of which is as it should be, because science underlies the forester's knowledge of the woods. So far I was headed right. But as for Forestry itself, there wasn't even a suspicion of it at Yale. The time for teaching Forestry as a profession was years away.

I believe that the useful methods of mathematics are easily to be learned by quite young persons, just as languages are easily learned in youth. What a wondrous philosophy and history underlie the use of almost every word in every language—yet the child learns to use the word unconsciously. No doubt when such a word was first invented it was studied over and lectured upon, just as one might lecture now upon the idea of a rate, or the use of Cartesian co-ordinates, and we may depend upon it that children of the future will use the idea of the calculus, and use squared paper as readily as they now cipher. … When Egyptian and Chaldean philosophers spent years in difficult calculations, which would now be thought easy by young children, doubtless they had the same notions of the depth of their knowledge that Sir William Thomson might now have of his. How is it, then, that Thomson gained his immense knowledge in the time taken by a Chaldean philosopher to acquire a simple knowledge of arithmetic? The reason is plain. Thomson, when a child, was taught in a few years more than all that was known three thousand years ago of the properties of numbers. When it is found essential to a boy's future that machinery should be given to his brain, it is given to him; he is taught to use it, and his bright memory makes the use of it a second nature to him; but it is not till after-life that he makes a close investigation of what there actually is in his brain which has enabled him to do so much. It is taken because the child has much faith. In after years he will accept nothing without careful consideration. The machinery given to the brain of children is getting more and more complicated as time goes on; but there is really no reason why it should not be taken in as early, and used as readily, as were the axioms of childish education in ancient Chaldea.

If the average man in the street were asked to name the benefits derived from sunshine, he would probably say "light and warmth" and there he would stop. But, if we analyse the matter a little more deeply, we will soon realize that sunshine is the one great source of all forms of life and activity on this old planet of ours. … [M]athematics underlies present-day civilization in much the same far-reaching manner as sunshine underlies all forms of life, and that we unconsciously share the benefits conferred by the mathematical achievements of the race just as we unconsciously enjoy the blessings of the sunshine.

The process of self-estrangement and its removal underlies all education. The mind must fix its attention upon what is alien to it and penetrate its disguise, making it become familiar. … Wonder is only the first stage of this estrangement. It must be followed by recognition.

We lay down a fundamental principle of generalization by abstraction: The existence of analogies between central features of various theories implies the existence of a general theory which underlies the particular theories and unifies them with respect to those central features.

When the child outgrows the narrow circle of family life … then comes the period of the school, whose object is to initiate him into the technicalities of intercommunication with his fellow-men, and to familiarize him with the ideas that underlie his civilization, and which he must use as tools of thought if he would observe and understand the phases of human life around him; for these … are invisible to the human being who has not the aid of elementary ideas with which to see them.