(source)

Gifford Pinchot

(11 Aug 1865 - 4 Oct 1946)




Gifford Pinchot
"Science underlies"
Illustrated Quote - Large (800 x 400 px)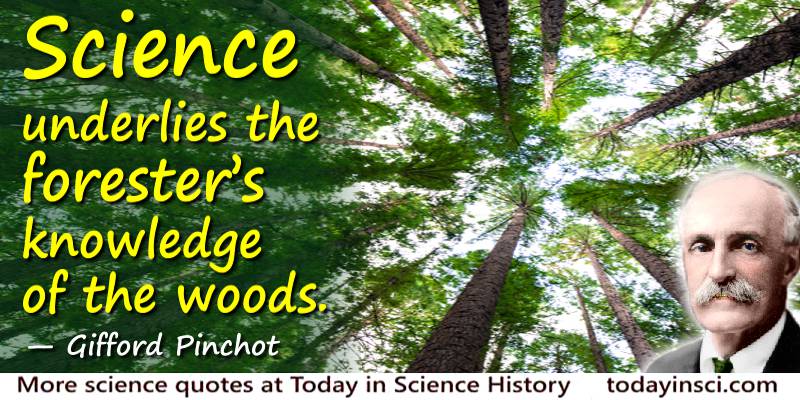 Gifford Pinchot, the founder and first chief of the Forest Service, wrote an autobiography, Breaking New Ground. He tells a fascinating tale of his efforts, under President Theodore Roosevelt, to wrest the forests from economic special interests and to bring them under management with respect for good stewardship, environmental and conservation issues. It took courage and leadership - but first of all, he had to make forestry a profession—his profession.
"But how to start on my adventure—how to become a forester—was not so simple. There were no schools of Forestry in America…"
Pinchot opens his autobiography by saying,
"How would you like to be a forester?" asked my foresighted Father one fortunate morning in the summer of 1885, just before I went to college. It was an amazing question for that day and generation—how amazing I didn't begin to understand at the time. When it was asked, not a single American had made Forestry his profession. Not an acre of timberland was being handled under the principles of Forestry anywhere in America."
His father made the suggestion to Gifford through foresight, having seen forestry being practised in Europe, and understanding the "relation between forests and national welfare." Pinchot recalls his reaction to the proposition:
"Forestry was a brand-new idea to me. I had no more conception of what it meant to be a forester than the man in the moon. Just what a forester did, since he no longer wore green cap and leather jerkin and shot cloth-yard arrows at the King's deer, was beyond my ken. But at least a forester worked in the woods and with the woods—and I loved the woods and everything about them. As a boy it was my firm intention to be a naturalist. Camping was my delight. … Whatever Forestry might be, I was for it.
Going to Yale was a family tradition, and the young Gifford Pinchot had been mulling over whether to prepare for a career in medicine or in the ministry. But his father's remark "settled the question in favor of Forestry. There were not many tracks in that trail, and that was all the more reason for taking a chance. So simply my happy adventure began." But from that point, Pinchot had to make his own trail. There wasn't even "a suspicion" of forestry at Yale. In fact, there were no schools of forestry—at all—in America. But Pinchot intended to follow the family tradition, go to Yale, and make his own selection of suitable courses:
"So I took a course in meteorology, which has to do with weather and climate. And another in botany, which has to do with the vegetable kingdom—trees are unquestionably vegetable. And another in geology, for forests grow out of the earth. Also I took a course in astronomy, for it is the sun which makes trees grow. All of which was as it should be, because science underlies the forester's knowledge of the woods. With little more knowledge of what I was after than a cat has about catalysts … I set out to become a professional forester."

Text by Webmaster, with quotes from Gifford Pinchot,
Breaking New Ground
(1947, 1998), 1-3.
(source)