Forestry Quotes (11 quotes)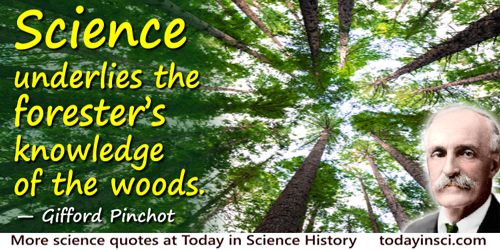 Every farm woodland, in addition to yielding lumber, fuel, and posts, should provide its owner a liberal education. This crop of wisdom never fails, but it is not always harvested.

How to start on my adventure—how to become a forester—was not so simple. There were no schools of Forestry in America. … Whoever turned his mind toward Forestry in those days thought little about the forest itself and more about its influences, and about its influence on rainfall first of all. So I took a course in meteorology, which has to do with weather and climate. and another in botany, which has to do with the vegetable kingdom—trees are unquestionably vegetable. And another in geology, for forests grow out of the earth. Also I took a course in astronomy, for it is the sun which makes trees grow. All of which is as it should be, because science underlies the forester's knowledge of the woods. So far I was headed right. But as for Forestry itself, there wasn't even a suspicion of it at Yale. The time for teaching Forestry as a profession was years away.

Humanity is cutting down its forests, apparently oblivious to the fact that we may not be able to live without them.

I had no more conception of what it meant to be a forester than the man in the moon. ... But at least a forester worked in the woods and with the woods - and I loved the woods and everything about them.
Gifford's thoughts, when upon entering Yale (1885) his father asked 'How would you like to be a forester?'

If a man walked in the woods for love of them half of each day, he is in danger of being regarded as a loafer, but if he spends his whole day as a speculator shearing of those woods and making earth bald before her time, he is estimated as an industrious and enterprising citizen—as if a town had no interest in forests but to cut them down.

It is estimated that thirty-five to fifty acres of rain forest are chopped down every minute.

Men have been talking now for a week at the post office about the age of the great elm, as a matter interesting but impossible to be determined. The very choppers and travelers have stood upon its prostrate trunk and speculated upon its age, as if it were a profound mystery. I stooped and read its years to them (127 at nine and a half feet), but they heard me as the wind that once sighed through its branches. They still surmised that it might be two hundred years old, but they never stooped to read the inscription. Truly they love darkness rather than light. One said it was probably one hundred and fifty, for he had heard somebody say that for fifty years the elm grew, for fifty it stood still, and for fifty it was dying. (Wonder what portion of his career he stood still!) Truly all men are not men of science. They dwell within an integument of prejudice thicker than the bark of the cork-tree, but it is valuable chiefly to stop bottles with. Tied to their buoyant prejudices, they keep themselves afloat when honest swimmers sink.

Sauntering silently among the healthful groves, concerning yourself about every thing worthy a wise and good man?

The monarch oak, the patriarch of the trees,
Shoots rising up, and spreads by slow degrees:
Three centuries he grows, and three he stays
Supreme in state; and in three more decays.

What do we plant when we plant the tree?
We plant the ship, which will cross the sea.
We plant the mast to carry the sails;
We plant the planks to withstand the gales—
The keel, the keelson, and beam and knee;
We plant the ship when we plant the tree.

What do we plant when we plant the tree?
We plant the houses for you and me.
We plant the rafters, the shingles, the floors,
We plant the studding, the lath, the doors,
The beams and siding, all parts that be;
We plant the house when we plant the tree.

What do we plant when we plant the tree?
A thousand things that we daily see;
We plant the spire that out-towers the crag,
We plant the staff for our country's flag,
We plant the shade, from the hot sun free;
We plant all these when we plant the tree.

When I came home not a single acre of Government, state, or private timberland was under systematic forest management anywhere on the most richly timbered of all continents. ... When the Gay Nineties began, the common word for our forests was 'inexhaustible.' To waste timber was a virtue and not a crime. There would always be plenty of timber. ... The lumbermen ... regarded forest devastation as normal and second growth as a delusion of fools. ... And as for sustained yield, no such idea had ever entered their heads. The few friends the forest had were spoken of, when they were spoken of at all, as impractical theorists, fanatics, or 'denudatics,' more or less touched in the head. What talk there was about forest protection was no more to the average American that the buzzing of a mosquito, and just about as irritating.