Oblivious Quotes (9 quotes)
[Benjamin Peirce's] lectures were not easy to follow. They were never carefully prepared. The work with which he rapidly covered the blackboard was very illegible, marred with frequent erasures, and not infrequent mistakes (he worked too fast for accuracy). He was always ready to digress from the straight path and explore some sidetrack that had suddenly attracted his attention, but which was likely to have led nowhere when the college bell announced the close of the hour and we filed out, leaving him abstractedly staring at his work, still with chalk and eraser in his hands, entirely oblivious of his departing class.

Macbeth:
How does your patient, doctor?
Doctor:
Not so sick, my lord,
As she is troubled with thick-coming fancies,
That keep her from her rest.
Macbeth:
Cure her of that.
Canst thou not minister to a mind diseased,
Pluck from the memory a rooted sorrow,
Raze out the written troubles of the brain,
And with some sweet oblivious antidote
Cleanse the stuffed bosom of that perilous stuff
Which weighs upon the heart?
Doctor:
Therein the patient
Must minister to himself.
Macbeth:
Throw physic to the dogs; I'll none of it.
A human without a cosmology is like a pebble lying near the top of a great mountain, in contact with its little indentation in the dirt and pebbles immediately surrounding it, but oblivious to its stupendous view.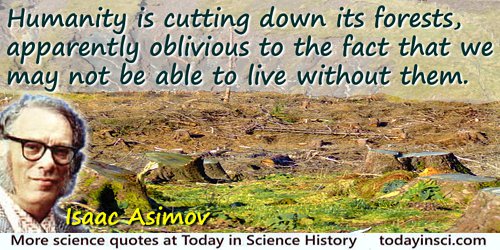 Background photo copyright Thomas Nugent (cc-by-sa/2.0)
(source)
Humanity is cutting down its forests, apparently oblivious to the fact that we may not be able to live without them.

I was in continual agony; I have never in my life been so tired as on the summit of Everest that day. I just sat and sat there, oblivious to everything … I knew I was physically at the end of my tether.

Man's history has been graven on the rock of Egypt, stamped on the brick of Assyria, enshrined in the marble of the Parthenon—it rises before us a majestic presence in the piled up arches of the Coliseum—it lurks an unsuspected treasure amid the oblivious dust of archives and monasteries—it is embodied in all the looms of religions, of races, of families.

On one occasion, when he was giving a dinner to some friends at the university, he left the table to get them a bottle of wine; but, on his way to the cellar, he fell into reflection, forgot his errand and his company, went to his chamber, put on his surplice, and proceeded to the chapel. Sometimes he would go into the street half dressed, and on discovering his condition, run back in great haste, much abashed. Often, while strolling in his garden, he would suddenly stop, and then run rapidly to his room, and begin to write, standing, on the first piece of paper that presented itself. Intending to dine in the public hall, he would go out in a brown study, take the wrong turn, walk a while, and then return to his room, having totally forgotten the dinner. Once having dismounted from his horse to lead him up a hill, the horse slipped his head out of the bridle; but Newton, oblivious, never discovered it till, on reaching a tollgate at the top of the hill, he turned to remount and perceived that the bridle which he held in his hand had no horse attached to it. His secretary records that his forgetfulness of his dinner was an excellent thing for his old housekeeper, who "sometimes found both dinner and supper scarcely tasted of, which the old woman has very pleasantly and mumpingly gone away with". On getting out of bed in the morning, he has been discovered to sit on his bedside for hours without dressing himself, utterly absorbed in thought.

The mathematician may be compared to a designer of garments, who is utterly oblivious of the creatures whom his garments may fit. To be sure, his art originated in the necessity for clothing such creatures, but this was long ago; to this day a shape will occasionally appear which will fit into the garment as if the garment had been made for it. Then there is no end of surprise and delight.

We found that each disconnected hemisphere [of the brain] was capable of sustaining its own conscious awareness, each largely oblivious of experience of the other.