Science Quotes by Stephen Dean
(2 quotes)
Archaeology gives a sense of place. It grounds us within the landscape and every place is unique. … Archaeology can also give an understanding of where we come from.

— Stephen Dean

One of the most interesting parts is the detective element. Archaeology is like a jigsaw puzzle, except that you can't cheat and look at the box, and not all the pieces are there.

— Stephen Dean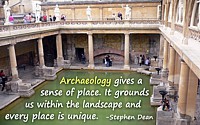 Photo credit: juliaavisphillips
(source)