Stephen Dean - Archaeology is like a jigsaw puzzle
Illustrated Quote - Medium (500 x 350 px)
This quote comes from interview article in the British newspaper, The Guardian. Sarah Marsh asked Stephen Dean about the most interesting archaeological find he had worked on. The answer came easily, as he was the principal archaeologist for the county council of Staffordshire. He had worked on the spectacular "Staffordshire hoard." This the largest hoard of Anglo-Saxon gold and silver metalwork yet found in England, comprising hundreds of gold and silver objects. A hoard is deliberately buried in a hole, and this one had lain there for 1,300 years until discovered on 5 Jul 2009, by a metal detectorist, Terry Herbert. The nature of the curious assortment of objects is intriguing, and it remains enigmatic. Archaeological investigation is needed to place it in context. Dean explained:
One of the most interesting parts is the detective element. Archaeology is like a jigsaw puzzle, except that you can't cheat and look at the box, and not all the pieces are there.
Dean said his job also involves giving advice on planning applications to councils to "make sure the historic environment is taken into account in plans." He could also be asked to assess uncovered human remains. An excavation he was about to start was on Cannock Chase. There, he would guide volunteer helpers to uncover an army camp and its inches-tall model of a Belgian village used as a training aid for soldiers preparing for an important First World War battle.

Text by Webmaster with quotes from interview article by Sarah Marsh, "Being a Council Archaeologist is 'Like Being a Detective'",
The Guardian
(6 Sep 2013).
(source)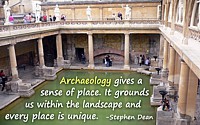 Photo credit: juliaavisphillips
(source)