Sinking Quotes (6 quotes)
Changes That Have Occurred in the Globe: When we have seen with our own eyes a mountain progressing into a plain; that is to say, an immense boulder separating from this mountain and covering the fields; an entire castle broken into pieces over the ground; a river swallowed up which then bursts out from its abyss; clear marks of a vast amount of water having once flooded regions now inhabited, and a hundred vestiges of other transformations, then we are much more willing to believe that great changes altered the face of the earth, than a Parisian lady who knows only that the place where her house was built was once a cultivated field. However, a lady from Naples who has seen the buried ruins of Herculaneum, is much less subject to the bias which leads us to believe that everything has always been as it is today.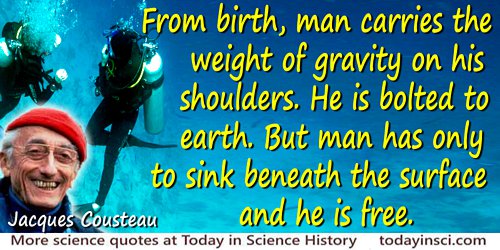 From birth, man carries the weight of gravity on his shoulders. He is bolted to earth. But man has only to sink beneath the surface and he is free.

Philosophy would long ago have reached a high level if our predecessors and fathers had put this into practice; and we would not waste time on the primary difficulties, which appear now as severe as in the first centuries which noticed them. We would have the experience of assured phenomena, which would serve as principles for a solid reasoning; truth would not be so deeply sunken; nature would have taken off most of her envelopes; one would see the marvels she contains in all her individuals. ...

Tape playback in automobiles is going to be the next big thing. I'm going to be in the position of a man with a boat full of life jackets following a ship he knows is going to sink. He won't have any trouble selling them.

The breaking up of the terrestrial globe, this it is we witness. It doubtless began a long time ago, and the brevity of human life enables us to contemplate it without dismay. It is not only in the great mountain ranges that the traces of this process are found. Great segments of the earth's crust have sunk hundreds, in some cases, even thousands, of feet deep, and not the slightest inequality of the surface remains to indicate the fracture; the different nature of the rocks and the discoveries made in mining alone reveal its presence. Time has levelled all.

There is more evidence to prove that saltiness [of the sea] is due to the admixture of some substance ... It is this stuff which makes salt water heavy (it weighs more than fresh water) and thick. The difference in consistency is such that ships with the same cargo very nearly sink in a river when they are quite fit to navigate in the sea. This circumstance has before now caused loss to shippers freighting their ships in a river. That the thicker consistency is due to an admixture of something is proved by the fact that if you make strong brine by the admixture of salt, eggs, even when they are full, float in it. It almost becomes like mud; such a quantity of earthy matter is there in the sea.
[Aristotle recognised the different density of fresh (river) or salty (sea) water. He describes an experiment using an egg (which sinks in fresh water) that floats in a strong brine solution.]