(source)

Jacques-Yves Cousteau

(11 Jun 1910 - 25 Jun 1997)




Science Quotes by Jacques-Yves Cousteau
(8 quotes)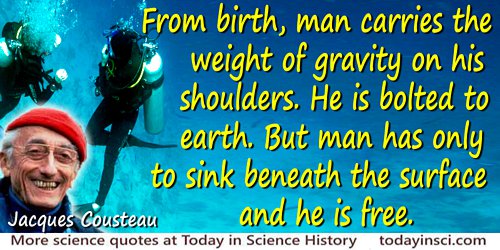 Buoyed by water, he can fly in any direction—up, down, sideways—by merely flipping his hand. Under water, man becomes an archangel.

— Jacques-Yves Cousteau

From birth, man carries the weight of gravity on his shoulders. He is bolted to earth. But man has only to sink beneath the surface and he is free.

— Jacques-Yves Cousteau

I am absolutely enraptured by the atmosphere of a wreck. A dead ship is the house of a tremendous amount of life—fish and plants. The mixture of life and death is mysterious, even religious. There is the same sense of peace and mood that you feel on entering a cathedral.

— Jacques-Yves Cousteau

I experimented with all possible maneuvers—loops, somersaults and barrel rolls. I stood upside down on one finger and burst out laughing, a shrill, distorted laugh. Nothing I did altered the automatic rhythm of the air. Delivered from gravity and buoyancy, I flew around in space.
Describing his early test (1943) in the Mediterranean Sea of the Aqua-Lung he co-invented.

— Jacques-Yves Cousteau

It is fashionable nowadays to talk about the endless riches of the sea. The ocean is regarded as a sort of bargain basement, but I don't agree with that estimate. People don't realize that water in the liquid state is very rare in the universe. Away from earth it is usually a gas. This moisture is a blessed treasure, and it is our basic duty, if we don't want to commit suicide, to preserve it.

— Jacques-Yves Cousteau

There was wildlife, untouched, a jungle at the border of the sea, never seen by those who floated on the opaque roof.
Describing his early experience, in 1936, when a fellow naval officer, Philippe Tailliez, gave him goggles to see below the Mediterranean Sea surface.

— Jacques-Yves Cousteau

Truly, we do live on a 'water planet'. For us, water is that critical issue that we need. It's the most precious substance on the planet, and it links us to pretty much every environmental issue, including climate change, that we're facing.

— Jacques-Yves Cousteau

What is a scientist after all? It is a curious man looking through a keyhole, the keyhole of nature, trying to know what's going on.

— Jacques-Yves Cousteau

---
Quotes by others about Jacques-Yves Cousteau (1)
Like my father and grandfather, Philippe and Jacques-Yves Cousteau, I've dedicated my life to exploring and protecting our seas, in large part through documentary film.