Helpful Quotes (10 quotes)
Je suis mιdecin. Je tiens boutique de mensonges. Je soulage, je console. Peut-on consoler et soulager sans mentir? … Les femmes et les mιdecins savent seuls combien le mensonge est nιcessaire et bienfaisant aux hommes.
I am a physician. I keep a drug-shop of lies. I give relief, consolation. Can one console and relieve without lying? … Only women and doctors know how necessary and how helpful lies are to men.

And having thus passed the principles of arithmetic, geometry, astronomy, and geography, with a general compact of physics, they may descend in mathematics to the instrumental science of trigonometry, and from thence to fortification, architecture, engineering, or navigation. And in natural philosophy they may proceed leisurely from the history of meteors, minerals, plants, and living creatures, as far as anatomy. Then also in course might be read to them out of some not tedious writer the institution of physic. … To set forward all these proceedings in nature and mathematics, what hinders but that they may procure, as oft as shall be needful, the helpful experiences of hunters, fowlers, fishermen, shepherds, gardeners, apothecaries; and in other sciences, architects, engineers, mariners, anatomists.

Mental events proceeding beneath the threshold of consciousness are the substrate upon which all conscious experience depends. To argue that all we need of our mental equipment is that part of which we are conscious is about as helpful as equating the United States with the Senate or England with the Houses of Parliament.

Nevertheless, his [Dostoyevsky's] personality retained sadistic traits in plenty, which show themselves in his irritability, his love of tormenting, and his intolerance even towards people he loved, and which appear also in the way in which, as an author, he treats his readers. Thus in little things he was a sadist towards others, and in bigger things a sadist towards himself, in fact a masochist—that is to say the mildest, kindliest, most helpful person possible.

Quite often, when an idea that could be helpful presents itself, we do not appreciate it, for it is so inconspicuous. The expert has, perhaps, no more ideas than the inexperienced, but appreciates more what he has and uses it better.

The powerful notion of entropy, which comes from a very special branch of physics … is certainly useful in the study of communication and quite helpful when applied in the theory of language.

The truth may not be helpful, but the concealment of it cannot be.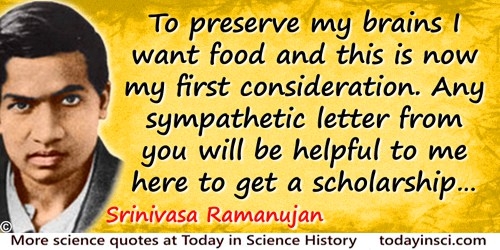 To preserve my brains I want food and this is now my first consideration. Any sympathetic letter from you will be helpful to me here to get a scholarship…

[Gut instinct is more important than expertise.] Muscle memory isn't very helpful when you're charting new territory.

[The error in the teaching of mathematics is that] mathematics is expected either to be immediately attractive to students on its own merits or to be accepted by students solely on the basis of the teacher's assurance that it will be helpful in later life. [And yet,] mathematlcs is the key to understanding and mastering our physical, social and biological worlds.