Detest Quotes (5 quotes)
Detest it as lewd intercourse, it can deprive you of all your leisure, your health, your rest, and the whole happiness of your life.
Having himself spent a lifetime unsuccessfully trying to prove Euclid's postulate that parallel lines do not meet, Farkas discouraged his son János from any further attempt.

I cannot tell you the efforts to which I was condemned to understand something of the diagrams of Descriptive Geometry, which I detest.

It may be observed of mathematicians that they only meddle with such things as are certain, passing by those that are doubtful and unknown. They profess not to know all things, neither do they affect to speak of all things. What they know to be true, and can make good by invincible arguments, that they publish and insert among their theorems. Of other things they are silent and pass no judgment at all, chusing [choosing] rather to acknowledge their ignorance, than affirm anything rashly. They affirm nothing among their arguments or assertions which is not most manifestly known and examined with utmost rigour, rejecting all probable conjectures and little witticisms. They submit nothing to authority, indulge no affection, detest subterfuges of words, and declare their sentiments, as in a Court of Judicature [Justice], without passion, without apology; knowing that their reasons, as Seneca testifies of them, are not brought to persuade, but to compel.

My father's collection of fossils was practically unnamed, but the appearance of Phillips' book [Geology of the Yorkshire Coast], in which most of our specimens were figured, enabled us to remedy this defect. Every evening was devoted by us to accomplishing the work. This was my first introduction to true scientific study. … Phillips' accurate volume initiated an entirely new order of things. Many a time did I mourn over the publication of this book, and the consequences immediately resulting from it. Instead of indulging in the games and idleness to which most lads are prone, my evenings throughout a long winter were devoted to the detested labour of naming these miserable stones. Such is the short-sightedness of boyhood. Pursuing this uncongenial work gave me in my thirteenth year a thorough practical familiarity with the palaeontological treasures of Eastern Yorkshire. This early acquisition happily moulded the entire course of my future life.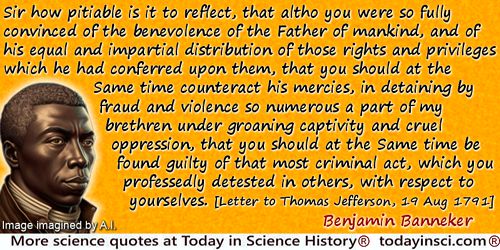 Sir how pitiable is it to reflect, that altho you were so fully convinced of the benevolence of the Father of mankind, and of his equal and impartial distribution of those rights and privileges which he had conferred upon them, that you should at the Same time counteract his mercies, in detaining by fraud and violence so numerous a part of my brethren under groaning captivity and cruel oppression, that you should at the Same time be found guilty of that most criminal act, which you professedly detested in others, with respect to yourselves.