Branching Quotes (10 quotes)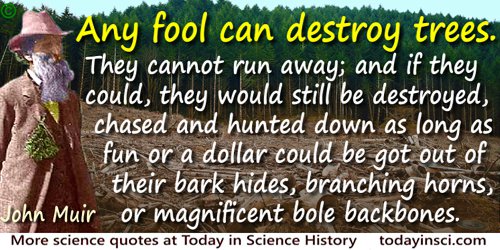 Any fool can destroy trees. They cannot run away; and if they could, they would still be destroyed,—chased and hunted down as long as fun or a dollar could be got out of their bark hides, branching horns, or magnificent bole backbones. Few that fell trees plant them; nor would planting avail much towards getting back anything like the noble primeval forests. During a man's life only saplings can be grown, in the place of the old trees—tens of centuries old—that have been destroyed.

As buds give rise by growth to fresh buds, and these, if vigorous, branch out and overtop on all sides many a feebler branch, so by generation I believe it has been with the great Tree of Life, which fills with its dead and broken branches the crust of the earth, and covers the surface with its ever branching and beautiful ramifications.

Decades spent in contact with science and its vehicles have directed my mind and senses to areas beyond their reach. I now see scientific accomplishments as a path, not an end; a path leading to and disappearing in mystery. Science, in fact, forms many paths branching from the trunk of human progress; and on every periphery they end in the miraculous. Following these paths far enough, one must eventually conclude that science itself is a miracle—like the awareness of man arising from and then disappearing in the apparent nothingness of space. Rather than nullifying religion and proving that "God is dead," science enhances spiritual values by revealing the magnitudes and minitudes—from cosmos to atom—through which man extends and of which he is composed.

Every great anthropologic and paleontologic discovery fits into its proper place, enabling us gradually to fill out, one after another, the great branching lines of human ascent and to connect with the branches definite phases of industry and art. This gives us a double means of interpretation, archaeological and anatomical. While many branches and links in the chain remain to be discovered, we are now in a position to predict with great confidence not only what the various branches will be like but where they are most like to be found.

In summary, very large populations may differentiate rapidly, but their sustained evolution will be at moderate or slow rates and will be mainly adaptive. Populations of intermediate size provide the best conditions for sustained progressive and branching evolution, adaptive in its main lines, but accompanied by inadaptive fluctuations, especially in characters of little selective importance. Small populations will be virtually incapable of differentiation or branching and will often be dominated by random inadaptive trends and peculiarly liable to extinction, but will be capable of the most rapid evolution as long as this is not cut short by extinction.

Life is a copiously branching bush, continually pruned by the grim reaper of extinction, not a ladder of predictable progress.

The strength of all sciences is, as the strength of the old man's faggot, in the band. For the harmony of a science, supporting each part the other, is and ought to be the true and brief confutation and suppression of all the smaller sort of objections; but, on the other side, if you take out every axiom, as the sticks of the faggot, one by one, you may quarrel with them and bend them and break them at your pleasure: so that, as was said of Seneca, Verborum minutiis rerum frangit pondera [that he broke up the weight and mass of the matter by verbal points and niceties], so a man may truly say of the schoolmen, Quaestionum minutiis scientiarum frangunt soliditatem [they broke up the solidarity and coherency of the sciences by the minuteness and nicety of their questions]. For were it not better for a man in fair room to set up one great light, or branching candlestick of lights, than to go about with a small watch-candle into every corner?

The vigorous branching of life's tree, and not the accumulating valor of mythical marches to progress, lies behind the persistence and expansion of organic diversity in our tough and constantly stressful world. And if we do not grasp the fundamental nature of branching as the key to life's passage across the geological stage, we will never understand evolution aright.

Thus a nerve element, a nerve entity, or 'neuron', as I propose to call it, consists‥of the following pieces:—(a) a nerve cell, (b) the nerve process, (c) its collaterals, and (d) the end-branching.
[Coining the word 'neuron' in the sense of a nerve cell.]

To describe all the several pairs of the spinal Nerves, and to rehearse all their branchings, and to unfold the uses and actions of them, would be a work of an immense labour and trouble: and as this Neurologie cannot be learned nor understood without an exact knowledge of the Muscles, we may justly here forbear entring upon its particular institution.