Clear-Cut Quotes (10 quotes)
Clearcut Quotes
A mathematical proof should resemble a simple and clear-cut constellation, not a scattered cluster in the Milky Way.

Across the road from my cabin was a huge clear-cut—hundreds of acres of massive spruce stumps interspersed with tiny Douglas firs—products of what they call "Reforestation," which I guess makes the spindly firs en masse a "Reforest," which makes an individual spindly fir a "Refir," which means you could say that Weyerhauser, who owns the joint, has Refir Madness, since they think that sawing down 200-foot-tall spruces and replacing them with puling 2-foot Refirs is no different from farming beans or corn or alfalfa. They even call the towering spires they wipe from the Earth's face forever a "crop"--as if they'd planted the virgin forest! But I'm just a fisherman and may be missing some deeper significance in their nomenclature and stranger treatment of primordial trees.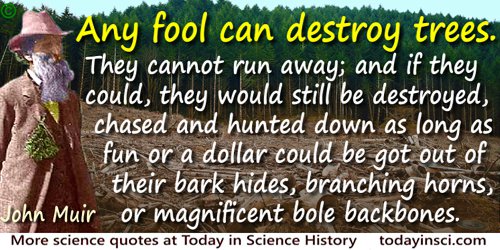 Any fool can destroy trees. They cannot run away; and if they could, they would still be destroyed,—chased and hunted down as long as fun or a dollar could be got out of their bark hides, branching horns, or magnificent bole backbones. Few that fell trees plant them; nor would planting avail much towards getting back anything like the noble primeval forests. During a man's life only saplings can be grown, in the place of the old trees—tens of centuries old—that have been destroyed.

It need scarcely be pointed out that with such a mechanism complete isolation of portion of a species should result relatively rapidly in specific differentiation, and one that is not necessarily adaptive. The effective inter­group competition leading to adaptive advance may be between species rather than races. Such isolation is doubtless usually geographic in character at the outset but may be clinched by the development of hybrid sterility. The usual difference of the chromosome complements of related species puts the importance of chromosome aberration as an evolutionary process beyond question, but, as I see it, this importance is not in the character differences which they bring (slight in balanced types), but rather in leading to the sterility of hybrids and thus making permanent the isolation of two groups.
How far do the observations of actual species and their subdivisions conform to this picture? This is naturally too large a subject for more than a few suggestions.
That evolution involves non-adaptive differentiation to a large extent at the subspecies and even the species level is indicated by the kinds of differences by which such groups are actually distinguished by systematics. It is only at the subfamily and family levels that clear-cut adaptive differences become the rule. The principal evolutionary mechanism in the origin of species must thus be an essentially nonadaptive one.

No other subject has such clear-cut or unanimously accepted standards, and the men who are remembered are almost always the men who merit it. Mathematical fame, if you have the cash to pay for it, is one of the soundest and steadiest of investments.

The basic thesis of gestalt theory might be formulated thus: there are contexts in which what is happening in the whole cannot be deduced from the characteristics of the separate pieces, but conversely; what happens to a part of the whole is, in clearcut cases, determined by the laws of the inner structure of its whole.

The hybridoma technology was a by-product of basic research. Its success in practical applications is to a large extent the result of unexpected and unpredictable properties of the method. It thus represents another clear-cut example of the enormous practical impact of an investment in research which might not have been considered commercially worthwhile, or of immediate medical relevance. It resulted from esoteric speculations, for curiosity's sake, only motivated by a desire to understand nature.

The world, nature, human beings, do not move like machines. The edges are never clear-cut, but always frayed. Nature never draws a line without smudging it.

There was positive, clear-cut, unquestioned direction of the project at all levels. Authority was invariably delegated with responsibility, and this delegation was absolute and without reservation. Only in this way could the many apparently autonomous organizations working on the many apparently independent tasks be pulled together to achieve our final objective.

[The effect of deep-sea mining is] to essentially clear-cut the deep ocean.