White House Quotes (6 quotes)
A Canadian newspaperman said yesterday that this is the President's "Easter egghead roll on the White House lawn." I want to deny that!
[Welcoming Nobel Prize winners as his guests at a White House dinner.]

If we are recognizing athletic achievement, we should also be recognizing academic achievement and science achievement. If we invite the team that wins the Super Bowl to the White House, then we need to invite some Science Fair winners to the White House as well.

In 1891, during the Presidency of William Henry Harrison [Benjamin Harrison], electric lights were first installed in the White House, the residence of the leaders of our country. At that time, commercial electricity was not economically feasible, but President Harrison wanted to affirm his confidence in the technological capability of our country.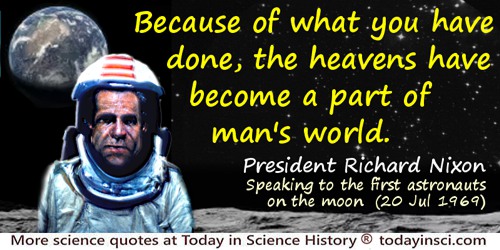 Neil and Buzz, I am talking to you by telephone from the Oval Office at the White House, and this certainly has to be the most historic telephone call ever made. Because of what you have done, the heavens have become a part of man's world. As you talk to us from the Sea of Tranquility, it inspires us to redouble our efforts to bring peace and tranquility to Earth.

Several of the young people here [at the fifth White House Science Fair] are first-generation Americans. Their parents came here, in part, so their kids could develop their talents and make a difference in the world. … America is going to be stronger and smarter and healthier, and a much more interesting place because of you.

This is our fifth White House Science Fair. And every year, I walk out smarter than I walked in, because … these young scientists and engineers teach us something beyond the specific topics that they're exploring. They teach us how to question assumptions; to wonder why something is the way it is, and how we can make it better. And they remind us that there's always something more to learn, and to try, and to discover, and to imagine—and that it's never too early, or too late to create or discover something new.