Thunderbolt Quotes (5 quotes)
Ask a follower of Bacon what [science] the new philosophy, as it was called in the time of Charles the Second, has effected for mankind, and his answer is ready; "It has lengthened life; it has mitigated pain; it has extinguished diseases; it has increased the fertility of the soil; it has given new securities to the mariner; it has furnished new arms to the warrior; it has spanned great rivers and estuaries with bridges of form unknown to our fathers; it has guided the thunderbolt innocuously from heaven to earth; it has lighted up the night with the splendour of the day; it has extended the range of the human vision; it has multiplied the power of the human muscles; it has accelerated motion; it has annihilated distance; it has facilitated intercourse, correspondence, all friendly offices, all dispatch of business; it has enabled man to descend to the depths of the sea, to soar into the air, to penetrate securely into the noxious recesses of the earth, to traverse the land in cars which whirl along without horses, to cross the ocean in ships which run ten knots an hour against the wind. These are but a part of its fruits, and of its first-fruits; for it is a philosophy which never rests, which has never attained, which is never perfect. Its law is progress. A point which yesterday was invisible is its goal to-day, and will be its starting-point to-morrow."

Blow, winds, and crack your cheeks! Rage, blow,
You cataracts and hurricanoes, spout
Till you have drench'd our steeples, drowned the cocks!
You sulph'rous and thought-executing fires,
Vaunt-couriers of oak-cleaving thunderbolts,
Singe my white head; and thou all-shaking thunder,
Strike flat the thick rotundity o'th' world,
Crack nature's moulds, all germens spill at once
That makes ingrateful man.

It is the flash which appears, the thunderbolt will follow.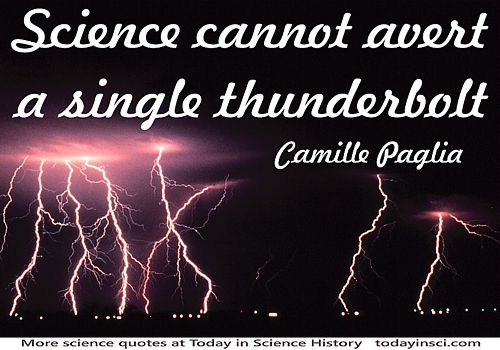 Science cannot avert a single thunderbolt.

There is nothing wrong with electricity; nothing except that modern man is not a god who holds the thunderbolts but a savage who is struck by lightning.