Camille Paglia - Science cannot avert a single thunderbolt
Illustrated Quote - Large (800 x 600 px)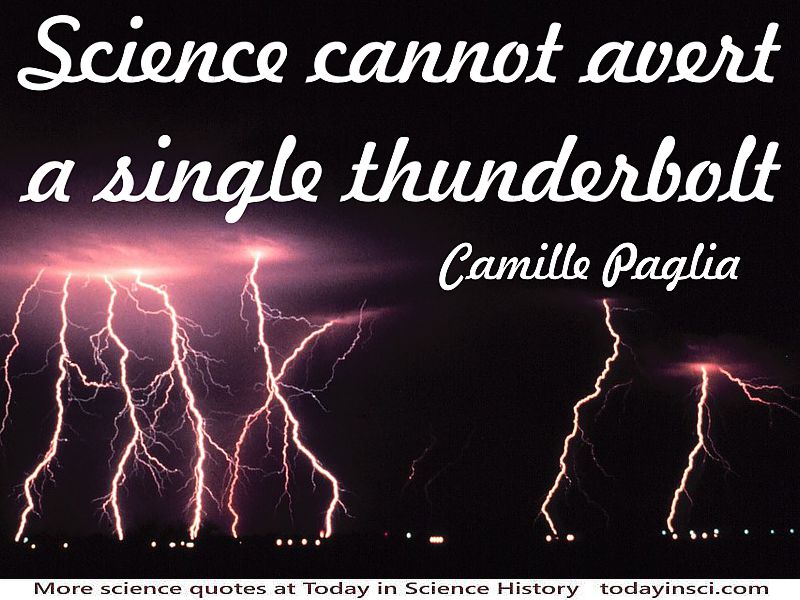 This quote comes from 'Sex and Violence, or Nature and Art', the opening essay in Sexual Personae. Paglia sets her stage with the opening remarks: "In the beginning was nature. The background from which and against which our ideas of God were formed, nature remains the supreme moral problem. We cannot hope to understand sex and gender until we clarify our attitude toward nature. Sex is a subset to nature. Sex is the natural in man." From there the book will take you on a tour of her view of the gender aspects of literature and art from ancient Egypt to western culture.
A few pages later, there appears this single paragraph relative to science:
"Science is a method of logical analysis of nature's operations. It has lessened human anxiety about the cosmos by demonstrating the materiality of nature's forces, and their frequent predictability. But science is always playing catch-up ball. … Science cannot avert a single thunderbolt. Western science is a product of the Apollonian mind: its hope is that by naming and classification, by the cold light of intellect, archaic night can be pushed back and defeated."
Quoted text from Camille Paglia,
Sexual Personae: Art and Decadence from Nefertiti to Emily Dickinson
(1990), Vol. 1, 5. (First appeared in
Western Humanities Review
(Spring 1988),
42
, No. 1.
(source)