(source)

Camille Flammarion

(26 Feb 1842 - 3 Jun 1925)




Science Quotes by Camille Flammarion
(4 quotes)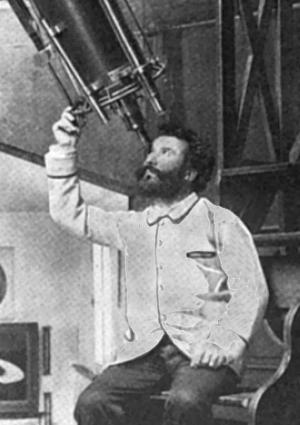 Flammarion at his Telescope
Always preoccupied with his profound researches, the great Newton showed in the ordinary-affairs of life an absence of mind which has become proverbial. It is related that one day, wishing to find the number of seconds necessary for the boiling of an egg, he perceived, after waiting a minute, that he held the egg in his hand, and had placed his seconds watch (an instrument of great value on account of its mathematical precision) to boil!
This absence of mind reminds one of the mathematician Ampere, who one day, as he was going to his course of lectures, noticed a little pebble on the road; he picked it up, and examined with admiration the mottled veins. All at once the lecture which he ought to be attending to returned to his mind; he drew out his watch; perceiving that the hour approached, he hastily doubled his pace, carefully placed the pebble in his pocket, and threw his watch over the parapet of the Pont des Arts.

— Camille Flammarion

May we attribute to the color of the herbage and plants, which no doubt clothe the plains of Mars, the characteristic hue of that planet, which is noticeable by the naked eye, and which led the ancients to personify it as a warrior?

— Camille Flammarion

That hemisphere of the moon which faces us is better known than the earth itself; its vast desert plains have been surveyed to within a few acres; its mountains and craters have been measured to within a few yards; while on the earth's surface there are 30,000,000 square kilometres (sixty times the extent of France), upon which the foot of man has never trod, which the eye of man has never seen.

— Camille Flammarion

[Urbain Jean Joseph] Le Verrier—without leaving his study, without even looking at the sky—had found the unknown planet [Neptune] solely by mathematical calculation, and, as it were, touched it with the tip of his pen!

— Camille Flammarion

---
Quotes by others about Camille Flammarion (1)
It has just occurred to me to ask if you are familiar with Lissajous' experiments. I know nothing about them except what I found in Flammarion's great "Astronomie Populaire." One extraordinary chapter on numbers gives diagrams of the vibrations of harmonics—showing their singular relation to the geometrical designs of crystal-formation;—and the chapter is aptly closed by the Pythagorian quotation: Ἀεὶ ὁ θεὸς ὁ μέγας γεωμετρεῖ—"God geometrizes everywhere." … I should imagine that the geometry of a fine opera would—were the vibrations outlined in similar fashion—offer a network of designs which for intricate beauty would double discount the arabesque of the Alhambra.