Discourage Quotes (14 quotes)
Be a nuisance where it counts. … Do your part to inform and stimulate the public to join your action. Be depressed, discouraged, and disappointed at failure and the disheartening effects of ignorance, greed, corruption, and bad politics — but never give up.

Berzelius' symbols are horrifying. A young student in chemistry might as soon learn Hebrew as make himself acquainted with them... They appear to me equally to perplex the adepts in science, to discourage the learner, as well as to cloud the beauty and simplicity of the atomic theory.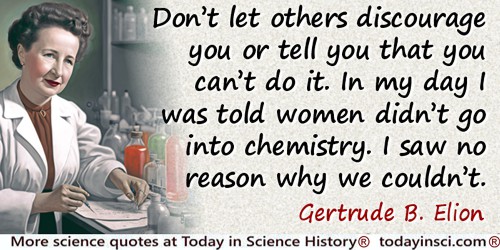 Don't be afraid of hard work. Nothing worthwhile comes easily. Don't let others discourage you or tell you that you can't do it. In my day I was told women didn't go into chemistry. I saw no reason why we couldn't.

I came to realize that exaggerated concern about what others are doing can be foolish. It can paralyze effort, and stifle a good idea. One finds that in the history of science almost every problem has been worked out by someone else. This should not discourage anyone from pursuing his own path.

It usually develops that after much laborious and frustrating effort the investigator of environmental physiology succeeds in proving that the animal in question can actually exist where it lives. It is always somewhat discouraging for an investigator to realize that his efforts can be made to appear so trite, but this statement does not belittle the ecological physiologist. If his data assist the understanding of the ways in which an animal manages to live where it does, he makes an important contribution to the study of distribution, for the present is necessarily a key to the past."

It would be very discouraging if somewhere down the line you could ask a computer if the Riemann hypothesis is correct and it said, "Yes, it is true, but you won't be able to understand the proof."

Mathematics has often been characterized as the most conservative of all sciences. This is true in the sense of the immediate dependence of new upon old results. All the marvellous new advancements presuppose the old as indispensable steps in the ladder. … Inaccessibility of special fields of mathematics, except by the regular way of logically antecedent acquirements, renders the study discouraging or hateful to weak or indolent minds.

My belief (is) that one should take a minimum of care and preparation over first experiments. If they are unsuccessful one is not then discouraged since many possible reasons for failure can be thought of, and improvements can be made. Much can often be learned by the repetition under different conditions, even if the desired result is not obtained. If every conceivable precaution is taken at first, one is often too discouraged to proceed at all.

One should first discourage people from doing mathematics; there is no need for too many mathematicians. But, if after that, they still insist on doing mathematics, then one should indeed encourage them, and help them.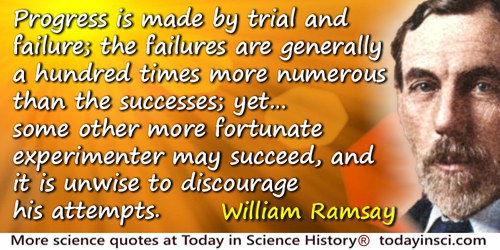 Progress is made by trial and failure; the failures are generally a hundred times more numerous than the successes; yet they are usually left unchronicled. The reason is that the investigator feels that even though he has failed in achieving an expected result, some other more fortunate experimenter may succeed, and it is unwise to discourage his attempts.

The history of mathematics may be instructive as well as agreeable; it may not only remind us of what we have, but may also teach us to increase our store. Says De Morgan, "The early history of the mind of men with regards to mathematics leads us to point out our own errors; and in this respect it is well to pay attention to the history of mathematics." It warns us against hasty conclusions; it points out the importance of a good notation upon the progress of the science; it discourages excessive specialization on the part of the investigator, by showing how apparently distinct branches have been found to possess unexpected connecting links; it saves the student from wasting time and energy upon problems which were, perhaps, solved long since; it discourages him from attacking an unsolved problem by the same method which has led other mathematicians to failure; it teaches that fortifications can be taken by other ways than by direct attack, that when repulsed from a direct assault it is well to reconnoiter and occupy the surrounding ground and to discover the secret paths by which the apparently unconquerable position can be taken.

The most important thing for us to recall may be, that the crucial quality of science is to encourage, not discourage, the testing of assumptions. That is the only ethic that will eventually start us on our way to a new and much deeper level of understanding.

To arrive at the simplest truth, as Newton knew and practiced, requires years of contemplation. Not activity Not reasoning. Not calculating. Not busy behaviour of any kind. Not reading. Not talking. Not making an effort. Not thinking. Simply bearing in mind what it is one needs to know. And yet those with the courage to tread this path to real discovery are not only offered practically no guidance on how to do so, they are actively discouraged and have to set about it in secret, pretending meanwhile to be diligently engaged in the frantic diversions and to conform with the deadening personal opinions which are continually being thrust upon them.

We are as yet got little farther than to the surface of things: yet ought we not to be discouraged; though we can never hope to attain to the complete knowledge of the texture, or constituent frame and nature of bodies, yet may we reasonably expect by this method of experiments, to make farther and farther advances abundantly sufficient to reward our pains.