Failed Quotes (3 quotes)
In the realm of science all attempts to find any evidence of supernatural beings, of metaphysical conceptions, as God, immortality, infinity, etc., thus far have failed, and if we are honest we must confess that in science there exists no God, no immortality, no soul or mind as distinct from the body.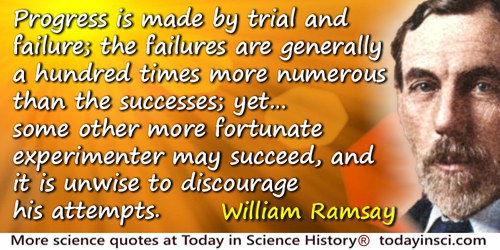 Progress is made by trial and failure; the failures are generally a hundred times more numerous than the successes; yet they are usually left unchronicled. The reason is that the investigator feels that even though he has failed in achieving an expected result, some other more fortunate experimenter may succeed, and it is unwise to discourage his attempts.

We reverence ancient Greece as the cradle of western science. Here for the first time the world witnessed the miracle of a logical system which proceeded from step to step with such precision that every single one of its propositions was absolutely indubitable—I refer to Euclid's geometry. This admirable triumph of reasoning gave the human intellect the necessary confidence in itself for its subsequent achievements. If Euclid failed to kindle your youthful enthusiasm, then you were not born to be a scientific thinker.