Carbon Cycle Quotes (5 quotes)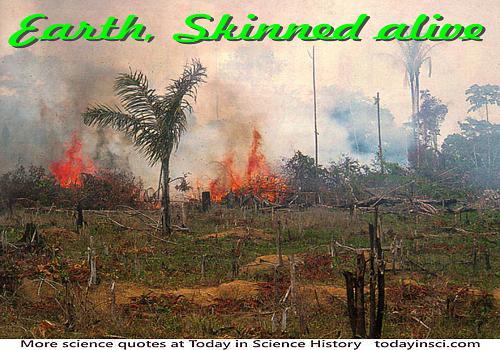 Deforestation of Amazon forest by burning to clear for grazing lands.
Credit: NASA LBA-ECO Project
A lot of people ask, "Do you think humans are parasites?" It's an interesting idea and one worth thinking about. People casually refer to humanity as a virus spreading across the earth. In fact, we do look like some strange kind of bio-film spreading across the landscape. A good metaphor? If the biosphere is our host, we do use it up for our own benefit. We do manipulate it. We alter the flows and fluxes of elements like carbon and nitrogen to benefit ourselves—often at the expense of the biosphere as a whole. If you look at how coral reefs or tropical forests are faring these days, you'll notice that our host is not doing that well right now. Parasites are very sophisticated; parasites are highly evolved; parasites are very successful, as reflected in their diversity. Humans are not very good parasites. Successful parasites do a very good job of balancing—using up their hosts and keeping them alive. It's all a question of tuning the adaptation to your particular host. In our case, we have only one host, so we have to be particularly careful.

Chemical biodynamics, involving as it does, the fusion of many scientific disciplines, … [played a role] in the elucidation of the carbon cycle. It can be expected to take an increasingly important place in the understanding of the dynamics of living organisms on a molecular level.

One is constantly reminded of the infinite lavishness and fertility of Nature—inexhaustible abundance amid what seems enormous waste. And yet when we look into any of her operations that lie within reach of our minds, we learn that no particle of her material is wasted or worn out. It is eternally flowing from use to use, beauty to yet higher beauty; and we soon cease to lament waste and death, and rather rejoice and exult in the imperishable, unspendable wealth of the universe.

The world's forests need to be seen for what they are—giant global utilities, providing essential public services to humanity on a vast scale. They store carbon, which is lost to the atmosphere when they burn, increasing global warming. The life they support cleans the atmosphere of pollutants and feeds it with moisture. They act as a natural thermostat, helping to regulate our climate and sustain the lives of 1.4 billion of the poorest people on this Earth. And they do these things to a degree that is all but impossible to imagine.

You will die but the carbon will not; its career does not end with you. It will return to the soil, and there a plant may take it up again in time, sending it once more on a cycle of plant and animal life.