(source)

John Hunter

(13 Feb 1728 - 16 Oct 1793)




Science Quotes by John Hunter
(6 quotes)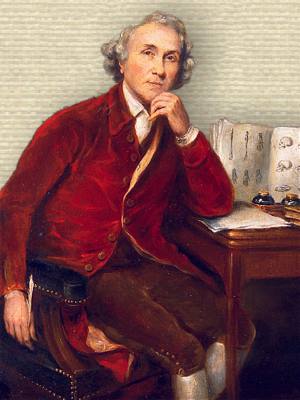 Oil Portrait of John Hunter
after Sir Joshua Reynolds, credit: Wellcome Collection
(source)
A sufferer from angina, Hunter found that his attacks were often brought on by anger. He declared, 'My life is at the mercy of the scoundrel who chooses to put me in a passion.' This proved prophetic: at a meeting of the board of St. George's Hospital, London, of which he was a member, he became involved in a heated argument with other board members, walked out of the meeting and dropped dead in the next room.

— John Hunter

I thank you for your Expt on the Hedge Hog; but why do you ask me such a question, by way of solving it. I think your solution is just; but why think, why not try the Expt.
[Often seen, without context, briefly as: But why think, why not try the experiment?']

— John Hunter

If we were capable of following the progress of increase of the number of the parts of the most perfect animal, as they first formed in succession, from the very first to its state of full perfection, we should probably be able to compare it with some one of the incomplete animals themselves, of every order of animals in the Creation, being at no stage different from some of the inferior orders; or, in other words, if we were to take a series of animals, from the more imperfect to the perfect, we should probably find an imperfect animal, corresponding with some stage of the most perfect.

— John Hunter

Never ask me what I have said or what I have written; but if you will ask what my present opinions are, I will tell you.

— John Hunter

Some Physiologists will have it that the Stomach is a Mill; others, that it is a fermenting Vat; others, again that it is a Stew-pan; but in my view of the matter, it is neither a Mill, a Fermenting vat nor a stew-pan, but a STOMACH, Gentlemen, a Stomach.

— John Hunter

The specific qualities in diseases also tend more rapidly to the skin than to the deeper-seated parts, except the cancer; although even in this disease the progress towards the superficies is more quick than its progress towards the centre. In short, this is a law in nature, and it probably is upon the same principle by which vegetables always approach the surface of the earth.

— John Hunter

---
Quotes by others about John Hunter (2)
Epitaph of John Hunter
The Royal College of Surgeons of England have placed this tablet over the grave of Hunter, to record their admiration of his genius as a gifted interpreter of the Divine Power and Wisdom at work in the Laws of Organic Life, and their grateful veneration for his services to mankind as the Founder of Scientific Surgery.

It is some systematised exhibition of the whale in his broad genera, that I would now fain put before you. Yet is it no easy task. The classification of the constituents of a chaos, nothing less is here essayed. Listen to what the best and latest authorities have laid down.
"No branch of Zoology is so much involved as that which is entitled Cetology," says Captain Scoresby, A.D. 1820.
"It is not my intention, were it in my power, to enter into the inquiry as to the true method of dividing the cetacea into groups and families. * * * Utter confusion exists among the historians of this animal" (sperm whale), says Surgeon Beale. A. D. 1839.
"Unfitness to pursue our research in the unfathomable waters." "Impenetrable veil covering our knowledge of the cetacea." "A field strewn with thorns." "All these incomplete indications but serve to torture us naturalists."
Thus speak of the whale, the great Cuvier, and John Hunter, and Lesson, those lights of zoology and anatomy. Nevertheless, though of real knowledges there be little, yet of books there are plenty; and so in some small degree, with cetology, or the science of whales. Many are the men, small and great, old and new, landsmen and seamen, who have at large or in little, written of the whale. Run over a few:— The Authors of the Bible; Aristotle; Pliny; Aldrovandi; Sir Thomas Browne; Gesner; Ray; Linnæus; Rondeletius; Willoughby; Green; Artedi; Sibbald; Brisson; Marten; Lacépède; Bonneterre; Desmarest; Baron Cuvier; Frederick Cuvier; John Hunter; Owen; Scoresby; Beale; Bennett; J. Ross Browne; the Author of Miriam Coffin; Olmstead; and the Rev. T. Cheever. But to what ultimate generalising purpose all these have written, the above cited extracts will show.
Of the names in this list of whale authors, only those following Owen ever saw living whales; and but one of them was a real professional harpooner and whaleman. I mean Captain Scoresby.

See also:
13 Feb - short biography, births, deaths and events on date of Hunter's birth.
The Knife Man: Blood, Body Snatching, and the Birth of Modern Surgery, by Wendy Moore . - book suggestion.
Booklist for History of Surgery.