(source)

Sir William Osler

(12 Jul 1849 - 29 Dec 1919)




William Osler
"Two sorts of doctors"
Illustrated Quote - Large (800 x 400 px)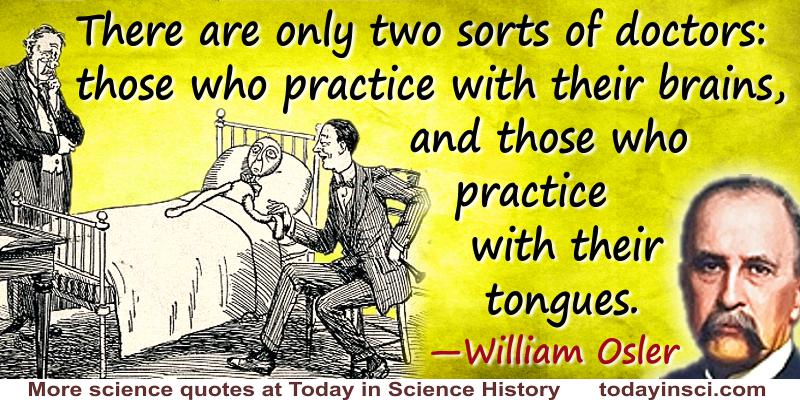 Candidate for medical degree being examined in the subject of "Bedside Manner" —
Punch
(22 Apr 1914)
(source)
When William Osler gave an address to McGill Medical School on 1 Oct 1894, entitled "Teaching and Thinking" his subtitle was "The Two Functions of a Medical School." He praised the "remarkable increase in his physical well-being." In particular, he recognized that
Anæsthetics and antiseptic surgery have almost manacled the demon.
Later in his talk, he said "Though used less frequently, medicines are now given with infinitely greater skill." He then considered the qualities of doctors who avoid "nostrums and humbuggery":
Many of the difficulties which surround the subject relate to the men who practise the art. The commonest as well as the saddest mistake is to mistake one's profession, and this we doctors do often enough, some of us, without knowing it.
There are men who have never had the preliminary education which would enable them to grasp the fundamental truths of the science on which medicine is based.
Others have poor teachers, and never receive that bent of mind which is the all important factor in education; others again fall early into the error of thinking that they know it all, and benefiting neither by their mistakes or their successes, miss the very essence of all experience, and die bigger fools, if possible, than when they started.
There are only two sorts of doctors; those who practise with their brains, and those who practise with their tongues.
The studious, hard-working man who wishes to know his profession thoroughly, who lives in the hospitals and dispensaries, and who strives to obtain a wide and philosophical conception of disease and its processes, often has a hard struggle, and it may take years of waiting before he becomes successful; but such form the bulwarks of our ranks, and outweigh scores of the voluble Cassios who talk themselves into, and often out of, practice.
Introductory text written by Webmaster. Note that the long quote appeared as a single paragraph in the original text; paragraph breaks were added to improve readability on the webpage. The quotes come from William Osler's address to McGill Medical School (1 Oct 1894), 'Teaching and Thinking', collected in
Aequanimitas: With Other Addresses to Medical Students, Nurses and Practitioners of Medicine
(1904), 131.
(source)