Book Of Nature Quotes (6 quotes)
Buch der Natur.
Book of Nature.

And when with excellent Microscopes I discern in otherwise invisible Objects the Inimitable Subtlety of Nature's Curious Workmanship; And when, in a word, by the help of Anatomicall Knives, and the light of Chymicall Furnaces, I study the Book of Nature, and consult the Glosses of Aristotle, Epicurus, Paracelsus, Harvey, Helmont, and other learn'd Expositors of that instructive Volumne; I find my self oftentimes reduc'd to exclaim with the Psalmist, How manifold are thy works, O Lord? In wisdom hast thou made them all.

In the beginning was the book of Nature. For eon after eon, the pages of the book turned with no human to read them. No eye wondered at the ignition of the sun, the coagulation of the earth, the birth of the moon, the solidification of a terrestrial continent, or the filling of the seas. Yet when the first primitive algae evolved to float on the waters of this ocean, a promise was born—a hope that someday all the richness and variety of the phenomena of the universe would be read with appreciative eyes.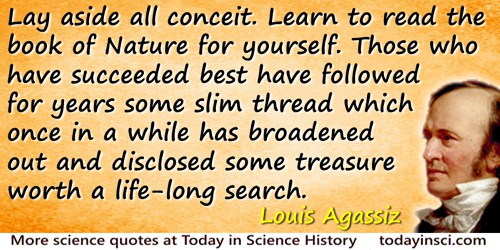 Lay aside all conceit. Learn to read the book of Nature for yourself. Those who have succeeded best have followed for years some slim thread which once in a while has broadened out and disclosed some treasure worth a life-long search.

The book of Nature is the book of Fate. She turns the gigantic pages,—leaf after leaf,—never re-turning one. One leaf she lays down, a floor of granite; then a thousand ages, and a bed of slate; a thousand ages, and a measure of coal; a thousand ages, and a layer of marl and mud: vegetable forms appear; her first misshapen animals, zoophyte, trilobium, fish; then, saurians,—rude forms, in which she has only blocked her future statue, concealing under these unwieldy monsters the fine type of her coming king. The face of the planet cools and dries, the races meliorate, and man is born. But when a race has lived its term, it comes no more again.

The great revelation of the quantum theory was that features of discreteness were discovered in the Book of Nature, in a context in which anything other than continuity seemed to be absurd according to the views held until then.