Disclosure Quotes (7 quotes)
… just as the astronomer, the physicist, the geologist, or other student of objective science looks about in the world of sense, so, not metaphorically speaking but literally, the mind of the mathematician goes forth in the universe of logic in quest of the things that are there; exploring the heights and depths for facts—ideas, classes, relationships, implications, and the rest; observing the minute and elusive with the powerful microscope of his Infinitesimal Analysis; observing the elusive and vast with the limitless telescope of his Calculus of the Infinite; making guesses regarding the order and internal harmony of the data observed and collocated; testing the hypotheses, not merely by the complete induction peculiar to mathematics, but, like his colleagues of the outer world, resorting also to experimental tests and incomplete induction; frequently finding it necessary, in view of unforeseen disclosures, to abandon one hopeful hypothesis or to transform it by retrenchment or by enlargement:—thus, in his own domain, matching, point for point, the processes, methods and experience familiar to the devotee of natural science.

If a psychiatric and scientific inquiry were to be made upon our rulers, mankind would be appalled at the disclosures.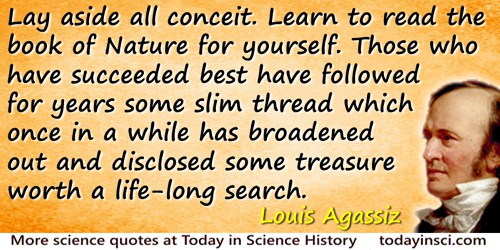 Lay aside all conceit. Learn to read the book of Nature for yourself. Those who have succeeded best have followed for years some slim thread which once in a while has broadened out and disclosed some treasure worth a life-long search.

Signs and symptoms indicate the present, past and future states of the three states of the body (health, illness, neutrality). According to Galen, knowledge of the present state is of advantage only to the patient as it helps him to follow the proper course of management. Knowledge of the past state is useful only to the physician inasmuch as its disclosure by him to the patient brings him a greater respect for his professional advice. Knowledge of the future state is useful to both. It gives an opportunity to the patient to be forewarned to adopt necessary preventative measures and it enhances the reputation of the physician by correctly forecasting the future developments.

There are hosts of men, of the profoundest thought, who find nothing in the disclosures of science to shake their faith in the eternal virtues of reason and religion.

Through fear of being shown to be vacuous, religion denies the awesome power of human comprehension. It seeks to thwart, by encouraging awe in things unseen, the disclosure of the emptiness of faith.

When I look back to … the long and ever tortuous path which led [to quantum theory], finally, to its disclosure, the whole development seems to me to provide a fresh illustration of the long-since proved saying of Goethe's that man errs as long as he strives.