Frequently Quotes (13 quotes)
"Pieces" almost always appear 'as parts' in whole processes. ... To sever a "'part" from the organized whole in which it occurs—whether it itself be a subsidiary whole or an "element"—is a very real process usually involving alterations in that "part". Modifications of a part frequently involve changes elsewhere in the whole itself. Nor is the nature of these alterations arbitrary, for they too are determined by whole-conditions.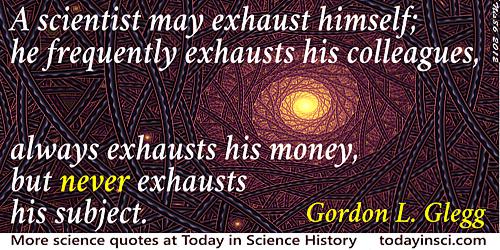 Background art by Nils86, (cc by-sa 3.0)
(source)
A scientist may exhaust himself; he frequently exhausts his colleagues, always exhausts his money, but never exhausts his subject.

As few subjects are more interesting to society, so few have been more frequently written upon than the education of youth.

Astronomy is, not without reason, regarded, by mankind, as the sublimest of the natural sciences. Its objects so frequently visible, and therefore familiar, being always remote and inaccessible, do not lose their dignity.

Error is often nourished by good sense. … The meaning is, that the powers of the understanding are frequently employed to defend favourite errors; and that a man of sense frequently fortifies himself in his prejudices, or in false opinions which he received without examination, by such arguments as would not have occurred to a fool.

Frequently, I have been asked if an experiment I have planned is pure or applied science; to me it is more important to know if the experiment will yield new and probably enduring knowledge about nature. If it is likely to yield such knowledge, it is, in my opinion, good fundamental research; and this is more important than whether the motivation is purely aesthetic satisfaction on the part of the experimenter on the one hand or the improvement of the stability of a high-power transistor on the other.

I really enjoy good murder mystery writers, usually women, frequently English, because they have a sense of what the human soul is about and why people do dark and terrible things. I also read quite a lot in the area of particle physics and quantum mechanics, because this is theology. This is about the nature of being. This is what life is all about. I try to read as widely as I possibly can.

Is it possible that a promiscuous Jumble of Printing Letters should often fall into a Method and Order, which should stamp on Paper a coherent Discourse; or that a blind fortuitous Concourse of Atoms, not guided by an Understanding Agent, should frequently constitute the Bodies of any Species of Animals.

My colleagues in elementary particle theory in many lands [and I] are driven by the usual insatiable curiosity of the scientist, and our work is a delightful game. I am frequently astonished that it so often results in correct predictions of experimental results. How can it be that writing down a few simple and elegant formulae, like short poems governed by strict rules such as those of the sonnet or the waka, can predict universal regularities of Nature?

Occasionally and frequently the exercise of the judgment ought to end in absolute reservation. It may be very distasteful, and great fatigue, to suspend a conclusion; but as we are not infallible, so we ought to be cautious; we shall eventually find our advantage, for the man who rests in his position is not so far from right as he who, proceeding in a wrong direction, is ever increasing his distance.

The artist does not illustrate science; … [but] he frequently responds to the same interests that a scientist does, and expresses by a visual synthesis what the scientist converts into analytical formulae or experimental demonstrations.

The canyon country does not always inspire love. To many it appears barren, hostile, repellent—a fearsome, mostly waterless land of rock and heat, sand dunes and quicksand. cactus, thornbush, scorpion, rattlesnake, and agoraphobic distances. To those who see our land in that manner, the best reply is, yes, you are right, it is a dangerous and terrible place. Enter at your own risk. Carry water. Avoid the noon-day sun. Try to ignore the vultures. Pray frequently.

[Young] was afterwards accustomed to say, that at no period of his life was he particularly fond of repeating experiments, or even of very frequently attempting to originate new ones; considering that, however necessary to the advancement of science, they demanded a great sacrifice of time, and that when the fact was once established, that time was better employed in considering the purposes to which it might be applied, or the principles which it might tend to elucidate.