Canyon Quotes (8 quotes)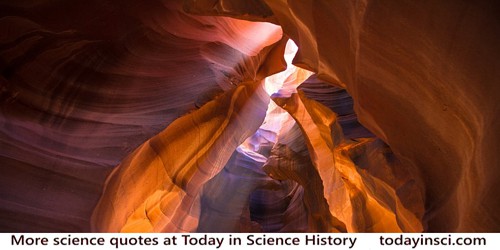 Antelope Canyon, Colorado
Photo by hikersbay CC0
(source)
[In refutation of evolution] They use carbon dating ... to prove that something was millions of years old. Well, we have the eruption of Mt. Saint Helens and the carbon dating test that they used then would have to then prove that these were hundreds of millions of years younger, when what happened was they had the exact same results on the fossils and canyons that they did the tests on that were supposedly 100 millions of years old. And it's the kind of inconsistent tests like this that they're basing their "facts" on.
[Citing results from a solitary young-Earth creationist, questioning whether the lava dome at Mount St. Helens is really a million years old.]

As our technology evolves, we will have the capacity to reach new, ever-increasing depths. The question is: What kind of technology, in the end, do we want to deploy in the far reaches of the ocean? Tools of science, ecology and documentation, or the destructive tools of heavy industry? Some parts of our oceans, like the rich and mysterious recesses of our Atlantic submarine canyons and seamounts, are so stunning and sensitive they deserve to be protected from destructive activities.

I cannot separate land and sea: to me they interfinger like a pattern in a moss agate, positive and negative shapes irrevocably interlocked. My knowledge of this peninsula depends on that understanding: of underwater canyons that are continuations of the land, of the shell fossils far inland that measure continuations of the sea in eons past.

Life is a thin narrowness of taken-for-granted, a plank over a canyon in a fog. There is something under our feet, the taken-for-granted. A table is a table, food is food, we are we—because we don't question these things. And science is the enemy because it is the questioner. Faith saves our souls alive by giving us a universe of the taken-for-granted.

Now the American eagle is verging on extinction. Even the polar bear on its ice floes has become easy game for flying sportsmen. A peninsula named Udjung Kulon holds the last two or three dozen Javan rhinoceroses. The last known herd of Arabian oryx has been machine-gunned by a sheik. Blue whales have nearly been harpooned out of their oceans. Pollution ruins bays and rivers. Refuse litters beaches. Dam projects threaten Colorado canyons, Hudson valleys, every place of natural beauty that can be a reservoir for power. Obviously the scientific progress so alluring to me is destroying qualities of greater worth.

The canyon country does not always inspire love. To many it appears barren, hostile, repellent—a fearsome, mostly waterless land of rock and heat, sand dunes and quicksand. cactus, thornbush, scorpion, rattlesnake, and agoraphobic distances. To those who see our land in that manner, the best reply is, yes, you are right, it is a dangerous and terrible place. Enter at your own risk. Carry water. Avoid the noon-day sun. Try to ignore the vultures. Pray frequently.

The ruins of Machu Picchu are perched on top of a steep ridge in the most inaccessible corner of the most inaccessible section of the central Andes. No part of the highlands of Peru has been better defended by natural bulwarks—a stupendous canyon whose rim is more than a mile above the river, whose rock is granite, and whose precipices are frequently a thousand feet sheer.

Whales, which use canyons like the Hudson [Canyon], may soon be harassed by fossil fuel exploration.