Concert Quotes (7 quotes)
[At a musical concert:]
…the music's pure algebra of enchantment.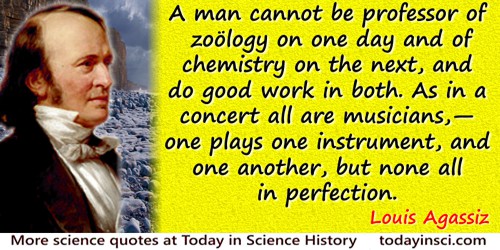 A man cannot be professor of zoölogy on one day and of chemistry on the next, and do good work in both. As in a concert all are musicians,—one plays one instrument, and one another, but none all in perfection.

A … difference between most system-building in the social sciences and systems of thought and classification of the natural sciences is to be seen in their evolution. In the natural sciences both theories and descriptive systems grow by adaptation to the increasing knowledge and experience of the scientists. In the social sciences, systems often issue fully formed from the mind of one man. Then they may be much discussed if they attract attention, but progressive adaptive modification as a result of the concerted efforts of great numbers of men is rare.

That our knowledge only illuminates a small corner of the Universe, that it is incomplete, approximate, tentative and merely probable need not concert us. It is genuine nevertheless. Physical science stands as one of the great achievements of the human spirit.

The rigid electron is in my view a monster in relation to Maxwell's equations, whose innermost harmony is the principle of relativity... the rigid electron is no working hypothesis, but a working hindrance. Approaching Maxwell's equations with the concept of the rigid electron seems to me the same thing as going to a concert with your ears stopped up with cotton wool. We must admire the courage and the power of the school of the rigid electron which leaps across the widest mathematical hurdles with fabulous hypotheses, with the hope to land safely over there on experimental-physical ground.

We had various kinds of tape-recorded concerts and popular music. But by the end of the flight what we listened to most was Russian folk songs. We also had recordings of nature sounds: thunder, rain, the singing of birds. We switched them on most frequently of all, and we never grew tired of them. It was as if they returned us to Earth.

Will we ever again be able to view a public object with civic dignity, unencumbered by commercial messages? Must city buses be fully painted as movable ads, lampposts smothered, taxis festooned, even seats in concert halls sold one by one to donors and embellished in perpetuity with their names on silver plaques?