Fund Quotes (12 quotes)
First, the chief character, who is supposed to be a professional astronomer, spends his time fund raising and doing calculations at his desk, rather than observing the sky. Second, the driving force of a scientific project is institutional self-aggrandizement rather than intellectual curiosity.
[About the state of affairs in academia.]

In addition, the oil royalties the Federal Government does not collect from big oil will starve the Land and Water Conservation Fund of critical financial resources.

In physical science … whatever knowledge is once gained forms a lasting fund for afterages to inherit and trade with.

My profession often gets bad press for a variety of sins, both actual and imagined: arrogance, venality, insensitivity to moral issues about the use of knowledge, pandering to sources of funding with insufficient worry about attendant degradation of values. As an advocate for science, I plead 'mildly guilty now and then' to all these charges. Scientists are human beings subject to all the foibles and temptations of ordinary life. Some of us are moral rocks; others are reeds. I like to think (though I have no proof) that we are better, on average, than members of many other callings on a variety of issues central to the practice of good science: willingness to alter received opinion in the face of uncomfortable data, dedication to discovering and publicizing our best and most honest account of nature's factuality, judgment of colleagues on the might of their ideas rather than the power of their positions.

Science can be thought of as a large pool of knowledge, fed by a steady flow from the tap of basic research. Every now and then the water is dipped out and put to use, but one never knows which part of the water will be needed. This confuses the funding situation for basic science, because usually no specific piece of scientific work can be justified in advance; one cannot know which is going to be decisive. Yet history shows that keeping water flowing into the pool is a very worthwhile enterprise.

Science is a capital or fund perpetually reinvested; it accumulates, rolls up, is carried forward by every new man. Every man of science has all the science before him to go upon, to set himself up in business with. What an enormous sum Darwin availed himself of and reinvested! Not so in literature; to every poet, to every artist, it is still the first day of creation, so far as the essentials of his task are concerned. Literature is not so much a fund to be reinvested as it is a crop to be ever new-grown.

Science is organized knowledge; and before knowledge can be organized, some of it must first be possessed. Every study, therefore, should have a purely experimental introduction; and only after an ample fund of observations has been accumulated, should reasoning begin.

The capital ... shall form a fund, the interest of which shall be distributed annually as prizes to those persons who shall have rendered humanity the best services during the past year. ... One-fifth to the person having made the most important discovery or invention in the science of physics, one-fifth to the person who has made the most eminent discovery or improvement in chemistry, one-fifth to the one having made the most important discovery with regard to physiology or medicine, one-fifth to the person who has produced the most distinguished idealistic work of literature, and one-fifth to the person who has worked the most or best for advancing the fraternization of all nations and for abolishing or diminishing the standing armies as well as for the forming or propagation of committees of peace.

There are those who say we cannot afford to invest in science, that support for research is somehow a luxury at moments defined by necessities. I fundamentally disagree. Science is more essential for our prosperity, our security, our health, our environment, and our quality of life than it has ever been before. … we can't allow our nation to fall behind. Unfortunately, that's exactly what's happened. Federal funding in the physical sciences as a portion of our gross domestic product has fallen by nearly half over the past quarter century. Time and again we've allowed the research and experimentation tax credit, which helps businesses grow and innovate, to lapse.

We have vastly increased the amount of funding that is available for conservation partnerships.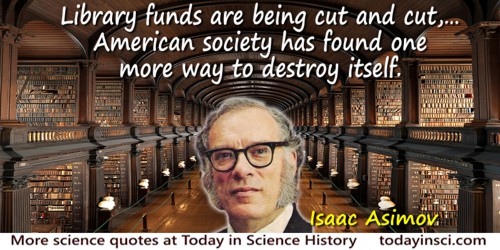 Background: Trinity College Library, Dublin by Irish Welcome Tours CC BY 2.0
(source)
When I read about the way in which library funds are being cut and cut, I can only think that the door is closing and that American society has found one more way to destroy itself.

[Receiving a university scholarship] was fundamentally important to me, to be able to afford going to school, and I still believe so strongly in the value of public education and state-funded universities.