(source)

Susan Lindquist

(5 Jun 1949 - 27 Oct 2016)




Science Quotes by Susan Lindquist
(5 quotes)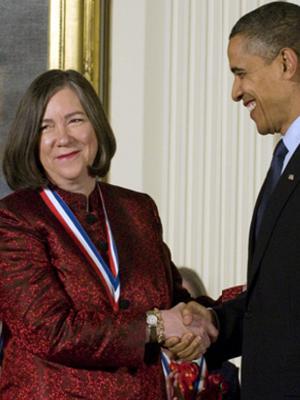 Susan Lindquist receiving National Medal of Science (2010).
(source)
[Receiving a university scholarship] was fundamentally important to me, to be able to afford going to school, and I still believe so strongly in the value of public education and state-funded universities.

— Susan Lindquist

[Rochelle Esposito] said that she didn't normally interfere, but wanted to tell me that it was really risky to switch organisms before getting tenure.

— Susan Lindquist

I like to do high-risk and high-payoff kind of research. And I had a gut feeling that MIT was a cool place to be with people who are fearless.

— Susan Lindquist

I remember being with my grandmother and mother and my uncle came in and asked what I wanted to be when grew up. I said 'A doctor,' which took him aback. He was expecting me to say 'nurse' or 'actress.' And my mother and grandmother laughed like, 'Kids say the darndest things.' I grew up in a time when women were not expected to do anything interesting.

— Susan Lindquist

I thought it was a miracle that I got this faculty appointment and was so happy to be there for a few years that I just wanted to follow what was exciting for me. I didn't have expectations of getting tenure. So this was an aspect of gender inequality that was extremely positive. It allowed me to be fearless.

— Susan Lindquist

See also:
5 Jun - short biography, births, deaths and events on date of Lindquist's birth.