Stamen Quotes (4 quotes)
At the elementary school, for instance, I spent an hour a week on "botany," which was an excuse for wandering through Epping Forest in charge of a master who, in his turn, regarded the hour as an excuse for a pleasant smoke in the open air. The result is that Botany to me to-day stands for just a few words like "calyx," "stamen," and "capillary attraction," plus the memory of lovely hours amidst trees and bracken. I do not complain.

I pull a flower from the woods,
A monster with a glass
Computes the stamens in a breath,
And has her in a class.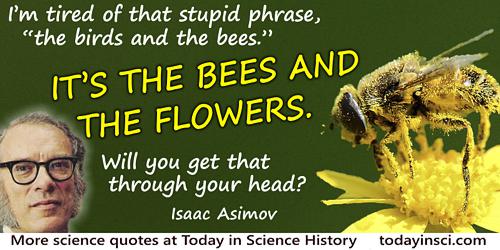 Macro photo of bee by Forest Wander (cc by-sa 2.0)
(source)
I'm tired of that stupid phrase, "the birds and the bees" which is supposed to represent "the facts of life" or the beginnings of the sex instruction of the young. … Well for heaven's sake, has anyone ever tried to explain sex by talking about the birds and the bees? What have the birds and the bees to do with it? IT'S THE BEES AND THE FLOWERS. Will you get that through your head? IT'S THE BEES AND THE FLOWERS. The bee travels to one flower and picks up pollen from the stamens. The pollen contains the male sex cells of the plant. The bee then travels to another flower (of the same species) and the pollen brushes off onto the pistil, which contains the female sex cells of the plant. … Now in the human being … we don't rely on bees to do it for us.

The rudest numerical scales, such as that by which the mineralogists distinguish different degrees of hardness, are found useful. The mere counting of pistils and stamens sufficed to bring botany out of total chaos into some kind of form. It is not, however, so much from counting as from measuring, not so much from the conception of number as from that of continuous quantity, that the advantage of mathematical treatment comes. Number, after all, only serves to pin us down to a precision in our thoughts which, however beneficial, can seldom lead to lofty conceptions, and frequently descend to pettiness.