(source)

Isaac Asimov

(2 Jan 1920 - 6 Apr 1992)




Clarke's First Law - Corollary: When, however, the lay public rallies round an idea that is denounced by distinguished but elderly scientists and supports that idea with great fervor and emotion—the distinguished but elderly scientists are then, after all, probably right.

— Isaac Asimov

A scientist is as weak and human as any man, but the pursuit of science may ennoble him even against his will.

— Isaac Asimov

During the 1930s, Nazi oppression drove numerous scientists to Great Britain and the United States, and they were a key factor in the development of the nuclear bomb—a development widely touted in the United States as based on "Yankee know-how." Except that virtually all the Yankees had foreign accents.

— Isaac Asimov

Every hour a scientist spends trying to raise funds is an hour lost from important thought and research.

— Isaac Asimov

How often people speak of art and science as though they were two entirely different things, with no interconnection. An artist is emotional, they think, and uses only his intuition; he sees all at once and has no need of reason. A scientist is cold, they think, and uses only his reason; he argues carefully step by step, and needs no imagination. That is all wrong. The true artist is quite rational as well as imaginative and knows what he is doing; if he does not, his art suffers. The true scientist is quite imaginative as well as rational, and sometimes leaps to solutions where reason can follow only slowly; if he does not, his science suffers.

— Isaac Asimov

I believe that only scientists can understand the universe. It is not so much that I have confidence in scientists being right, but that I have so much in nonscientists being wrong.

— Isaac Asimov

In 1900 however, he [Planck] worked out the revolutionary quantum theory, a towering achievement which extended and improved the basic concepts of physics. It was so revolutionary, in fact, that almost no physicist, including Planck himself could bring himself to accept it. (Planck later said that the only way a revolutionary theory could be accepted was to wait until all the old scientists had died.)

— Isaac Asimov

Inspect every piece of pseudoscience and you will find a security blanket, a thumb to suck, a skirt to hold. What does the scientist have to offer in exchange? Uncertainty! Insecurity!

— Isaac Asimov

It is hard to describe the exact route to scientific achievement, but a good scientist doesn't get lost as he travels it.

— Isaac Asimov

Pierre Curie, a brilliant scientist, happened to marry a still more brilliant one—Marie, the famous Madame Curie—and is the only great scientist in history who is consistently identified as the husband of someone else.

— Isaac Asimov

Science is uncertain. Theories are subject to revision; observations are open to a variety of interpretations, and scientists quarrel amongst themselves. This is disillusioning for those untrained in the scientific method, who thus turn to the rigid certainty of the Bible instead. There is something comfortable about a view that allows for no deviation and that spares you the painful necessity of having to think.

— Isaac Asimov

Scientific apparatus offers a window to knowledge, but as they grow more elaborate, scientists spend ever more time washing the windows.

— Isaac Asimov

The card-player begins by arranging his hand for maximum sense. Scientists do the same with the facts they gather.

— Isaac Asimov

"Any specialty, if important, is too important to be left to the specialists." After all, the specialist cannot function unless he concentrates more or less entirely on his specialty and, in doing so, he will ignore the vast universe lying outside and miss important elements that ought to help guide his judgment. He therefore needs the help of the nonspecialist, who, while relying on the specialist for key information, can yet supply the necessary judgment based on everything else… Science, therefore, has become too important to be left to the scientists.

— Isaac Asimov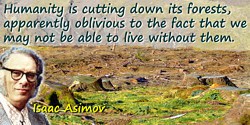 Background photo copyright Thomas Nugent (cc-by-sa/2.0)
(source)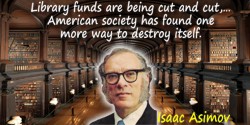 Background: Trinity College Library, Dublin by Irish Welcome Tours CC BY 2.0
(source)