(source)

John Aubrey

(12 Mar 1626 - 7 Jun 1697)




Science Quotes by John Aubrey
(9 quotes)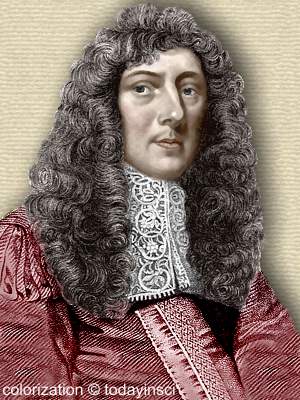 He had read much, if one considers his long life; but his contemplation was much more than his reading. He was wont to say that if he had read as much as other men he should have known no more than other men.

— John Aubrey

He was 40 yeares old before he looked on Geometry; which happened accidentally. Being in a Gentleman's Library, Euclid's Elements lay open, and 'twas the 47 El. Libri 1 [Pythagoras' Theorem]. He read the proposition. By G-, sayd he (he would now and then sweare an emphaticall Oath by way of emphasis) this is impossible! So he reads the Demonstration of it, which referred him back to such a Proposition; which proposition he read. That referred him back to another, which he also read. Et sic deinceps [and so on] that at last he was demonstratively convinced of that trueth. This made him in love with Geometry .
Of Thomas Hobbes, in 1629.

— John Aubrey

He [Robert Boyle] is very tall (about six foot high) and straight, very temperate, and vertuouse, and frugall: a batcheler; keepes a Coach; sojournes with his sister, the Lady Ranulagh. His greatest delight is Chymistrey. He has at his sister's a noble laboratory, and severall servants (Prentices to him) to look to it. He is charitable to ingeniose men that are in want, and foreigne Chymists have had large proofe of his bountie, for he will not spare for cost to get any rare Secret.

— John Aubrey

He [Robert Hooke] is but of midling stature, something crooked, pale faced, and his face but little belowe, but his head is lardge; his eie full and popping, and not quick; a grey eie. He haz a delicate head of haire, browne, and of an excellent moist curle. He is and ever was very temperate, and moderate in dyet, etc. As he is of prodigious inventive head, so is a person of great vertue and goodnes. Now when I have sayd his Inventive faculty is so great, you cannot imagine his Memory to be excellent, for they are like two Bucketts, as one goes up, the other goes downe. He is certainly the greatest Mechanick this day in the World.

— John Aubrey

He [William Harvey] bid me to goe to the Fountain-head, and read Aristotle, Cicero, Avicenna, and did call the Neoteriques shitt-breeches.

— John Aubrey

He [William Harvey] did not care for chymistrey, and was wont to speake against them with an undervalue.

— John Aubrey

I have heard him [William Harvey] say, that after his Booke of the Circulation of the Blood came-out, that he fell mightily in his Practize, and that 'twas beleeved by the vulgar that he was crack-brained.

— John Aubrey

Mr Hooke sent, in his next letter [to Sir Isaac Newton] the whole of his Hypothesis, scil that the gravitation was reciprocall to the square of the distance: ... This is the greatest Discovery in Nature that ever was since the World's Creation. It was never so much as hinted by any man before. I wish he had writt plainer, and afforded a little more paper.

— John Aubrey

Mr. Hobbes told me that the cause of his Lordship's [Francis Bacon s] death was trying an experiment: viz., as he was taking the air in a coach with Dr. Witherborne, a Scotchman, physician to the King, towards Highgate, snow lay on the ground, and it came into my Lord's thoughts, why flesh might not be preserved in snow as in salt. They were resolved they would try the experiment presently. They alighted out of the coach and went into a poor woman s house at the bottom of Highgate Hill and bought a hen and made the woman exenterate it, and then stuffed the body with snow, and my Lord did help to do it himself The snow so chilled him that he immediately fell so extremely ill that he could not return to his lodgings.

— John Aubrey