(source)

George Brayton

(3 Oct 1830 - 17 Dec 1892)




George Brayton's Engine
George B. Brayton in 1872 proposed and built an engine that was very complete and fairly successful. Fig. 97 is a general view and Fig. 98 his oil burner.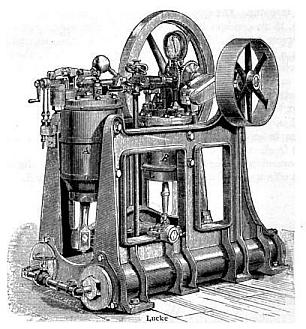 Fig. 97
Air is compressed in the single-acting pump, which has a volume one-half that of the power cylinder. The compressed air passes from the constant-pressure receiver through pipe D and over the absorbent material e, through which the fuel is fed by a pump. Here it takes up vapor and the mixture passes the wire-guage grating and into the cylinder, where it burns. Means are provided to prevent entirely shutting off the air from the power cylinder, and thus there is kept constantly burning a small flame which increases for the power stroke. Governing is effected by a variable cut-off to the power cylinder.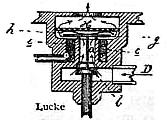 Fig. 98.
The power cylinder is water-jacketed, and no trouble is experienced through over-heating. A safety valve is placed in the reservoir.
Text and images from Paper No. 923, Charles E. Lucke, 'The Heat Engine Problem' presented at the New York Meeting (Dec 1901) of the American Society of Mechanical Engineers. In
Transactions of the American Society of Mechanical Engineers
(1902), 231-232.
(source)