(source)

Frans Cornelis Donders

(27 May 1818 - 24 Mar 1889)




Frans Donders - Biography
from
An Introduction to the History of Medicine, with Medical Chronology

(1913)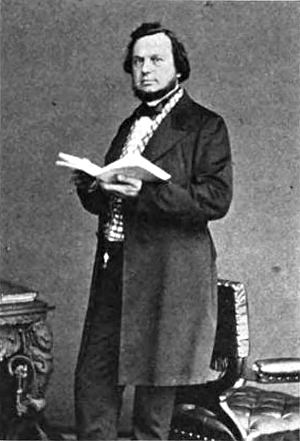 Frans Donders (1818-89)
[p.551] Frans Cornelis Donders (1818-89), of Tilburg, Holland, was educated as an army surgeon, but became a professor in the Utrecht Faculty in 1848, and, after 1862, devoted himself exclusively to ophthalmology. To this field belong his studies of the muscæ volitantes (1847), the use of prismatic glasses in strabismus (1848), the relation between convergence of the visual axes and accommodation (1848), regeneration of the cornea (1848), anomalies of refraction as a cause of strabismus (1863), the invention of the ophthalmotonometer (1863), and, above all, his great work on The Anomalies of Refraction and Accommodation, which was published, not in Dutch, but in English, by the New Sydenham Society (1864). As a contribution to physiological optics, this book ranks with the labors of Helmholtz. It contains Donders' explanation of astigmatism, of the relations between strabismus and hypermetropic or myopic conditions, and his discovery of hypermetropia. It has been the main source of knowledge on the improvement of disorders of vision by spectacles up to the time of Gullstrand. It is said that, while impatiently waiting for one of Helmholtz's ophthalmoscopes, Donders contrived one for himself in which the silvered mirror with central perforation, now in use, was substituted for the superimposed glass plates of the Berlin master's instrument. In 1845, Donders became editor of the Nederlandsch Lancet, and in 1851 he established the Netherlandish Hospital for Diseases of the Eye (Nederlandsch Gasthuis voor Oogleiden); but his labors were not entirely confined to the eye. In 1863, he succeeded Schroeder van der Kolk as professor of physiology at Utrecht, and, in 1866, established the new Physiological Laboratory in the same city. His most important contribution to physiology was the first measurement of the reaction [p.552] time of a psychical process (1868).1 In 1845 he wrote on metabolism as the source of heat in animals and plants, and his contributions on the physiology of speech (1864-70)2 are of great importance. Donders was highly accomplished, speaking English, French, and German like a native, yet modest to the point of diffidence. His earlier military avocations gave him a polished tenue which, with his natural personal charm, made him known all over Europe as one of the most attractive specialists of his time.
1
Arch. f. Anat., Physiol, u. wissensch. Med., Berlin, 1868, 657-681.
2
De physiologie der spraakklanken, Utrecht, 1870.
Text and photo from Fielding Hudson Garrison,
An Introduction to the History of Medicine, with Medical Chronology
(1913), 551-552.
(source)
See also:
27 May - short biography, births, deaths and events on date of Donders's birth.