(source)

Amelia Earhart

(24 Jul 1897 - 2 Jul 1937)




Amelia Earhart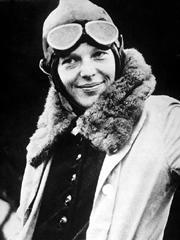 Amelia Earhart, born in Atchison, Kansas, was educated at Columbia University and Harvard Summer School. Within a few years of graduation, she had established herself as a national reputation as a talented and respected role model. She was tireless in efforts to demonstrate to young women that females were as capable as men in succeeding at their chosen vocations. She proved this point time and time again in her own career as an aviator. A kind, soft-spoken, inquisitive and quietly courageous woman, Amelia Earhart was destined to become one of the most familiar and celebrated names of the 20th century.
She received her first flying lesson in 1921, and bought her first plane on her birthday of that year.
"Now and then women should do for themselves what men have already done - occasionally what men have not done - thereby establishing themselves as persons, and perhaps encouraging other women toward greater independence of thought and action. Some such consideration was a contributing reason for my wanting to do what I so much wanted to do."
— Amelia Earhart
She was the first woman to fly across the Atlantic in 1928 when she accepted the invitation of the American pilots Wilmer Stultz (1900-29) and Louis Gordon to join them on a transatlantic flight. She published the book 20 Hrs., 40 Min. (1928) describing her experience as the first woman to make the crossing by air, followed by The Fun of It (1932).
In 1935, Earhart made a solo flight across the Atlantic, and in the new record time of 13 hours and 30 minutes. Both the American and French governments awarded honors to her for the accomplishment.
A solo Pacific Ocean crossing was her next quest, in 1935, between Hawaii and California. Within the same year, she also set another speed record, this time for a non-stop flight in 14 hours and 19 minutes between Mexico City and New York City.
By 1937, she attempted to fly around the world, beginning from Miami, Florida on an eastward flight. Frederick J. Noonan, acted as navigator on board. But after flying over 22,000 miles, contact was lost with their plane on a leg from Lae, New Guinea, intending to refuel at Howland Island. She disappeared on 3 July 1937.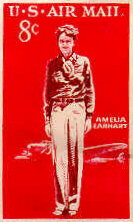 The U.S. Navy mounted a search with ships and airplanes, but they had disappeared, seemingly without a trace being discovered. How and why the plane carrying Earhart and Noonan went down remains an enigma.
Her diary and transmissions from various lay-overs along the 22,000 miles provided material for a posthumous publication of her words describing her final travels. The book, Last Flight (1937), was edited by her husband, George Palmer Putnam (1887-1950), a book publisher.