(source)

Christian Gottfried Ehrenberg

(19 Apr 1795 - 27 Jun 1876)




CHRISTIAN GOTTFRIED EHRENBERG.
Obituary (1877)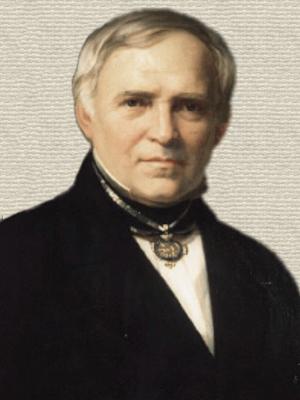 [p.327] Christian Gottfried Ehrenberg died June 27, 1876, in his eighty-second year. He belonged among the founders of our present zoology, and was the first to treat in a scientific way that mass of minute beings formerly included in the vague term "Infusoria." With the synchronism that often marks valuable discoveries, it happened that considerable improvements in the microscope were made about the time he began his favorite investigations, and the demands of his subject led him ever to encourage and aid such improvements.
In 1830 appeared his great work on living infusoria, with admirable plates from his own hand. His interpretation of forms so novel was naturally influenced by previous ideas of organization in the animal kingdom; so that to many of them he attributed organs more or less defined, and a certain complication of structure. As microscopy progressed, these views were modified and corrected by the observers he had trained, or who had been stimulated by his example. The studies of Schwann and Henle on the nature and development of the cell gave a new interpretation to these microscopic creatures. Some were found to be unicellular plants, and others proved the embryos of sponges, and to be even of articulated or radiated animals. But all such corrections were simply the unvarying steps that mark discovery. Ehrenberg it was who took the first step, and who, to the end, remained the master-spirit in this field. In 1840 appeared his chief work on the fossil infusoria, which exhibited their extraordinary part in building geological formations, whether as a fine sand (Bergmehl), or in more compact forms. He showed that some cretaceous foraminifera are still living, and explained in advance the structure of portions of the deep-sea bottom which have recently been examined by the dredge. The number of these low organisms, figured in his chief works and in his numerous minor publications, is so great as to give data for their geographical and geological distribution over a large portion of the globe. It must not be thought that Ehrenberg was a specialist of the narrow type which is, unfortunately, so common to-day. He was a man learned in all branches of natural history, and had grown side by side with the science he fostered. Although he spent the greater part of his life in his native Prussia, he travelled a good deal. Having studied at first theology, and afterwards medicine, at Leipzig, he moved, in 1817, to Berlin, and there devoted himself to what proved to be the occupation of his life. From 1820 to 1825, he travelled with Hemprich in Arabia, [p.328] Egypt, and Nubia, and brought back to his patrons of the Berlin Academy a rich collection. He published from it " The Corals of the Red Sea," a work which gave him a high reputation. In 1829, he went with Humboldt to the Ural Mountains; and, in 1839, he received the appointment of professor in the University of Berlin.
Ehrenberg enjoyed the advantage that originality gives. He helped build up zoology, and he created a special department in its study. Thus it was easy for him to keep on the crest of the front wave. All the labors of his followers only added to his power and elevation.

Portrait, not in original text, from source shown above. Text from
Daedalus: Journal of the American Academy of Arts and Sciences
(1877),
12
, 327-328.
(source)
See also:
19 Apr - short biography, births, deaths and events on date of Ehrenberg's birth.