ICE-CREAM.
A CENTURY'S USE OF THE DAINTY.
from Harper's Bazar (1898)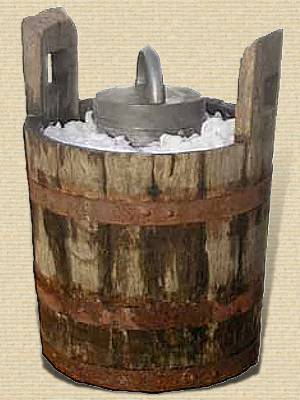 Sorbetière for making ice cream. The inner metal container (sabotiere) is surrounded by a freezing mixture of crushed ice and salt.
(source)
[p.914] THE idea of selling ice, as a trade, first occurred to a Boston merchant named Tudor, who in 1805 shipped ice to Martinique. In 1819, when ice was scarce in the neighborhood of Boston, a vessel was sent to the coast of Labrador in order to take ice from an iceberg, and succeeded, though with some damage, in procuring a cargo, which was carried to Martinique. The Greeks and Romans used various means to cool their drinks, with more or less success. About the middle of the sixteenth century the custom of cooling drink with saltpetre was introduced into Italy. Afterward the method of increasing the cold of snow and ice by a mixture of saltpetre became common. The preparation of artificial ice soon became more usual, and what was at first an experiment became a luxury. In the beginning of the seventeenth century ice-cups were introduced, and fruits frozen in ice were brought on the table.
The limonadiers, or lemonade-sellers, of Paris endeavored to increase the popularity of their wares by icing them, and one, more enterprising than the rest, an Italian named Procope Couteaux, in the year 1660, conceived the idea of converting such beverages entirely into ice, and about twenty years later iced liquors—that is, liquors changed into ice—were the principal things sold by the limonadiers. By the end of that century iced liquors were quite com- mon in Paris. Soon after the French began to freeze the juices of all savory fruits for desserts, and to them we are indebted for our ice-cream.
Ice-cream—or iced "butter," as it was first called, from its supposed resemblance to that substance—was first known in Paris in 1774. The Due de Chartres often went at that time to the Paris coffee-houses to drink a glass of iced liquor, and the landlord having one day presented him with his "arms" formed in edible ice, this kind of sweetmeat became the fashion. German cooks at once took up the new art. It was not long in reaching England, for in 1776 a French cook, resident in London, named Clermont, wrote The Modern Cook, in which sweet ices were first described for the instruction of English cooks.
The New York Post Boy of June 8, 1786, makes this announcement: "Ladies and gentlemen may be supplied with ice-cream every day at the city tavern by their humble servant, Joseph Cowe.1"
At a ball given by a Mrs. Johnson in New York, on December 12, 1789, there were "served pyramids of red and white ice-cream with punch and liquors, rose cinnamon, and parfait amour."
Ice-cream was first introduced at the national capital by Mrs. Alexander Hamilton, who had had it in her home in New York. She used to tell with amusement of the delight with which President Jackson first tasted it, and [p.915] how he promptly decided to have ices at the Executive Mansion. Accordingly, guests at the next reception were treated to the frozen mystery, and afforded considerable fun to tbe initiated by the reluctance with which they tasted it. Those from the rural districts, especially, first eyed it suspiciously, then melted each spoonful with breath before consuming it. Their distrust was soon removed, however, and plates were emptied with great rapidity. The man who made the cream was, oddly enough, a negro by the name of Jackson, who, in the early part of the present century, kept a small confectionery store in Washington. Cold custards, which were cooled after being made by setting them on a cake of ice, were very fashionable, and Jackson, at Mrs. Hamilton's suggestion, froze them by placing the ingredients in a tin bucket and completely covering it with the ice. Each bucket contained a quart, and was sold for one dollar. It immediately became popular, and the inventor soon enlarged his store, and when he died left a considerable fortune. A good many tried to follow his example, and ice-cream was hawked about the streets, being wheeled along very much as the hokey-pokey carts are now, but none of them succeeded in obtaining the flavor that Jackson had in his product.
Ice-cream in New England was regarded with suspicion, and partaken of in very small quantities.
In Elsie Venner2 there is mention made of the Deacon who, "not being in the habit of taking his nourishment in the congealed state, had treated the ice-cream as a pudding of a rare species."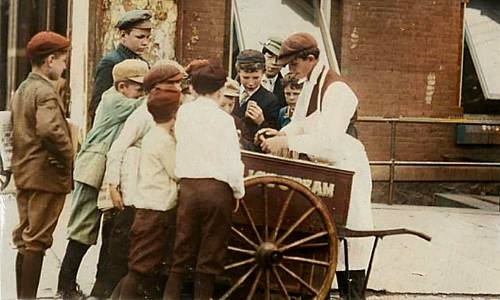 Ice Cream Hokey-Pokey Cart, Wilmington, Delaware, USA — Where the Newsboys' Money Goes. Photo by Lewis W. Hine (May 1910).
(source)
[Notes by Webmaster:
1
Seen spelled as "Crowe" in Walter Warner Fisk,
The Book of Ice-Cream
(1919), 291.
(source)
.
2
Elsie Venner
is a romance novel (1861) by Oliver Wendell Holmes Sr.
This webpage was revised on 13 Jun 2023, and now gives the full article from
Harper's Bazar
. Previously, the page had an excerpted version from
Christian Work: Illustrated Family Newspaper
(5 Jan 1899),
66
, 39,
(source)
. The previous page subtitle attributed it to "
Harper's Bazaar
(1899)." In fact, it was the
Christian Work
that was published in 1899, but the excerpt was from
Harper's Bazar
issued in 1898. Note that the publication at that time used its original name spelled as
Bazar
, though later known as
Bazaar
.
Images, not in original text, from source shown above. Colorization of hokey-pokey cart image by Webmaster using palette.fm. Text from
Harper's Bazar
(22 Oct 1898),
31
, No. 43, 914-915.
(source)