The Dangers in Radium
A Comparison of the Success and Casualties Due to Its Use
from Hygienic Gazette (1910)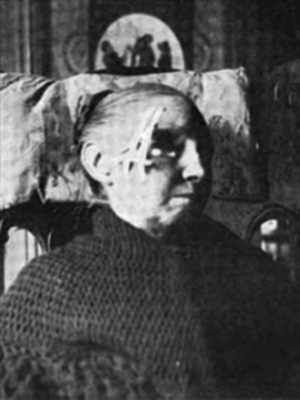 Radium therapy using small tubes of radium strapped over ulcerated area of face of patient, age 57 yrs (1904)
(source)
It seems now fairly well concluded that the range of efficacy in radium therapeusis1 is exceedingly small, while its dangers are grave and generally irreparable. It is likely we shall have to conclude that radium has done more harm than good to suffering humanity.
We recognize that there are still enthusiasts. The Council of the Royal British Radium Institute includes Sir Frederick Treves, physician to King Edward; Sir William Ramsay2 and Joseph John Thompson, professor of physics at the Royal Institution, and Sir Frederick in February last held the view that the utility of radium is likely to be very great.
"I have seen," he says, "moles removed by it. I have watched it cure a birthmark the size of a gooseberry on a baby's head; an angioma on a girl's eyelid as big as a plum; port wine stains can be removed by it; even lumps under the skin yield to it—four weeks' treatment dispersed one as large as a hen's egg; rodent ulcers of a certain type may be successfully treated. At the same time although we know that radium does these things we know little else about it."
What we do know very definitely is an amazing list of casualties following upon such experimentation, by comparison with which the therapeutic triumphs here cited by Sir Frederick should justly be termed contemptible.
Amazing claims are made in France for radium efficacity2. In February last Degra's of Paris declared, "We are no longer in a period of expectancy; we are now in a period of confirmation." At the Paris Radium Institute sixty-four out of eighty-six cases of surface cancer have been reported cured; all kinds of cantaneous3 affectations have been treated successfully, it is said, and chronic rheumatism and tuberculosis have yielded to radium treatment. Cum grano salis4, we advise.
On the other hand the list of disasters due to the use of radium and of its congener, the X-ray, is simply appalling. Dr. John H. Edwards, president of the British Electrotherapeutic society, has (or had in 1906) a cancerous growth caused by constant exposure. His left arm has had to be amputated.
Another victim was Clarence Dally, who submitted amputations of fingers and finally of arms, but who finally died. Dadignet of Paris died from the effects of his experiments; so did Blacker5 of London, Dr. Louis Weigel of Rochester and Wolfram C. Fuchs of Chicago.—Hygienic Gazette.
1
"Therapeusis" is a dated medical word, a synonym for therapeutics, the branch of medicine concerned with the treatment of disease.
2
Apparent typos in the original text have been corrected above for "Ramsey" and "effacy".
3
"Cantaneous" is a dated medical word. It appears, for example, in an
advertisement
for a book by A. H. Ohmann-Dumesnil (
A Handbook of Dermatology
in
St. Louis Medical and Surgical Journal
(Dec 1890),
59
, endpapers), the author is described as "Professor of Dermatology…; Physician for Cantaneous Diseases." That suggests the word is synonymous with "cutaneous", meaning relating to or affecting the skin.
4
Cum grano salis
(Latin) translates as the idiom "with a grain (pinch) of salt" which indicates with skepticism, referring to a claim that may be misleading or unverified.
5
Dr. Arthur Barry Blacker, died at age 40 on 10 Sep 1902, after a long illness. At the time of his death, he was Superintendent of the X-ray Department of St. Thomas's Hospital.
Footnotes by Webmaster. See also
Los Angeles Times
(13 Feb 1910), 19. Image, not in original article, added from source shown. The text as reproduced above is transcribed by Webmaster from the Phoenix newspaper,
The Arizona Republican
(27 Feb 1910), 8.
(source)