SOVIET UNION ANNOUNCES THEIR
FIRST H-BOMB DETONATION
TEXT OF SOVIET STATEMENT
released in Moscow, Thursday, 20 August 1953
by Pravda, official organ of the Soviet Communist party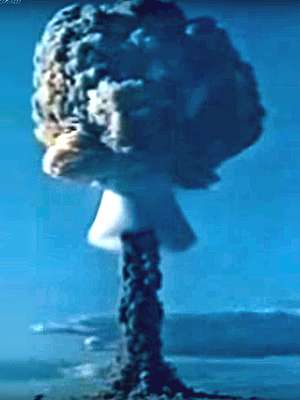 First Soviet Hydrogen Bomb (Joe-4)
(source)
Within the last few days an explosion of one of a variety of hydrogen bombs was carried out for experimental purposes.
Because of the existence in the hydrogen bomb of a mighty thermonuclear reaction, the explosion was of great strength.
The test showed that the power of the hydrogen bomb is many times greater than the power of the atomic bomb.
It is known that the Soviet Union has for several years possessed the atomic weapon and made several tests with this weapon. As follows from the speech of the Chairman of the Council of Ministers of the U.S.S.R., G. Malenkov, on Aug. 8 at the fifth session of the Supreme Soviet, the Soviet Union has taken possession of the secret of the production of the hydrogen bomb.
This information of the Soviet Government caused a great deal of reaction abroad.
Some foreign circles who had laid their stake on their policy of the monopoly of the United States in the possession of the atomic bomb, and later of the hydrogen bomb, aspired to intimidate people by the fact that the Soviet Union possessed the secret of the production of the hydrogen weapon, and, in connection with this, cause alarm, using it with the aim of intensifying the armaments drive.
The Soviet Government regards it as essential to declare that there is not and was not any reason for alarm. In accordance with the unchanging policy of the Soviet Union directed to the strengthening of peace and the security of nations, the Soviet Government repeatedly offered to the governments of other countries the carrying out of a considerable reduction of armaments and the forbidding of the use of the atomic and other kinds of weapons of mass destruction, establishing within the framework of the United Nations strict international control of this Prohibition.
The Soviet Government solemnly stands on this position at the present time.
[The Soviet announcement gave few details of the test. U.S. scientists determined the detonation took place on 12 Aug 1953, and gave it the reference name of "Joe-4".]
Image added, not in original text, from source shown above. Text as reprinted in New York Times (20 Aug 1953), 1.