A GOOD TIME COMING FOR WHALES
THE OIL FOUNTAINS OF PENNSYLVANIA
Reprinted from N.Y. Evening Post
in Littel's The Living Age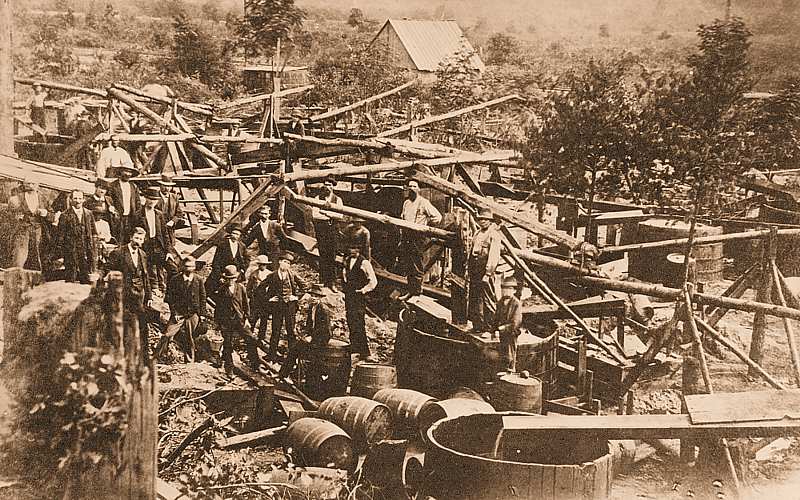 First U.S. oil wells pumping at Titusville, Pennsylvania
(source)
To the Editors of the Evening Post:
[p.810] I HAVE recently been very much interested in a visit to Oil Creek, and believing that your readers would be edified with a brief account of the wonderful developments there to be witnessed, I have concluded to jot down a few of my observations :—
Titusville, Crawford County, Pennsylvania, is the emporium of the oil regions, and from a quiet little farming community has suddenly become a bustling, thriving town, having within five or six months doubled its buildings and trebled, if not quadrupled, its population. A newspaper has been successfully started; an oil refinery is in full blast, and a steam cooperage is turning out iron-hooped barrels at the rate of some two hundred per day. A Boston company has secured a site for a large hotel which is very much needed, and will soon be built, and a railroad is surveyed to Union Mills, some twenty-two miles distant, which is to be immediately constructed. In fact, the crowd of spectators and of miners in search of employment, as well as visitors from curiosity, so throng the place as to make it more like a juvenile San Francisco than the quiet place it was a few months since.
From the surface indications of oil which have long been known to exist in this region, it was inferred that fountains might be found underneath, and a Mr. Drake was the first man to conceive the plan of an artesian well in search of it. It was only last September that he commenced boring, and not before February or March were the results realized which wellnigh turned the heads of most of the inhabitants. He obtained a well which yielded, by pumping, some fifty barrels of oil per day, worth in the crude state thirty cents per gallon. Speculation at once commenced in lands. Some refused to sell at any price, while others received four or five times the amount that they valued their farms at a few weeks before, and these were resold again at large advances, or leased out in small parcels for a bonus in money and a large portion of the oil to be obtained. Other wells were immediately commenced, and have been starting with great rapidity ever since, until now it is estimated that at least two thousand are in progress, with flattering prospects, while some two hundred are either pumping or have found oil, and are awaiting the necessary pump and engine to work them.
The wells are all after one model, the artesian, varying in depth from seventy-five to four hundred feet, an iron pipe of five-inch bore being inserted in each and driven to the rock, usually some thirty-five or forty feet below the surface. A pump is inserted through this, opening with tubing sufficient to carry it to the proper oil opening, and by means of a flaxseed bag the waters from above the oil are shut off, and the oil thus prevented from rising outside the pump. The pump is then worked by a steam-engine, and discharges a mixture of oil and salt water into a large vat standing near, where the oil immediately separating, runs off at an aperture in the top into a smaller vat, and the water is drawn off by a suitable opening in the side. From this second vat the oil is drawn immediately into barrels and is ready for market. The expense of running a pump is said to be not over six dollars per day. Each barrel holds forty-two gallons, and you can readily calculate what profit there is in the business when the well yields from twelve to seventy-five barrels per day. Such is the value of the oil, that from the commencement the demand has been in advance of the supply, and it is sought with avidity by men ready to pay cash at the wells for every gallon. There are men there who have already made their fifteen or twenty thousand dollars in the last five months from their single wells, and many landholders who have realized a like sum from their leases, which are daily becoming more numerous and prolific.
I visited the Crossby well, which at first yielded seventy-five barrels per day. Owing to the filling in of the shaft with sediment it was at that time yielding but twelve. Mr. Crossby was sinking another shaft near by, and as soon as it was ready he intended to shift his pump, and by rimming out the old well had no doubt of obtaining the former supply. We next visited the Barnsdale well, which also commenced pumping last March. This well had steadily yielded from the first some fifteen barrels per day, but had recently increased, and was now pumping eighteen. A few rods from this was the Williams well, which, at the time we were there, was the great and exciting topic of interest and conversation. The oil in this well came to the top with no admixture of water, and ran over. In order to save it a large plug was driven into the five-inch pipe, and a hole being bored through the centre of that, a three-eighth lead pipe was inserted, and being slightly curved, the oil was led directly into the bung of a barrel, and thus steadily day and night had it been running at the rate of twelve barrels per day for several days.
We were introduced to the owner, who [p.811] sat whittling upon a log near by. He was as happy as a young father with his first bairne. He had formerly been in the mercantile business in Warren, Pa., and having failed, had now gone in pursuit of oil, in hopes of retrieving his fortune. His first well in another locality was unsuccessful, and he abandoned it almost discouraged, and with scarcely a cent left. With the help of friends, however, he secured another site, and after patient drilling for a few weeks had met with what every one deemed great success. He asked me if I was from New York. I told him that I was. He then inquired if I knew various firms in New York. I told him that I did. "Well," said he, "when you see them, tell them that Williams, of Warren, is all right; that he has 'struck oil,' and they will soon hear from him." I congratulated him upon his success. "Well," he said, "he could call but one-sixth of it his own, having been obliged to pledge all the rest for means to carry it through." " But," said he " I shall take that arrangement up, and at in the drill again; I am not satisfied with that, and mean to have a thirty-barrel well yet." We laughed at his enthusiasm, and thought he had better let well enough alone. We left him, however; and, about two weeks later—as soon as he had replenished his pockets—as good as his word, he opened his pipe, put in the drill again, and, after drilling about two feet and a-half, opened a perfect river of oil, which was forced by the gas over the top of the tube at the rate of ten barrels per hour for about twenty hours, when the gas having blown off, the oil subsided and settled to a level within sight of the top of the tube. A pump has since been inserted, and the daily yield is now from seventy-five to one hundred barrels. Another well was opened last week within a few miles of this, with similar results, the oil discharging in such quantities for more than a day as to make it impossible to secure it, and it is supposed that not less than fifty barrels ran off into the creek and was lost. You will perceive by these facts that this is a growing affair, of which we have as yet but a faint conception; and it is safe to venture the assertion that no mining in the world pays better for the labor bestowed, or with greater certainty, than this rock oil. This region, too, is within twenty-four hours of the city, and offers an abundant opening for the poor laborer as well as for the man of means seeking an investment.
But what are the uses of this oil? We will name a few of them :-—
1st. In medicine it has long been used under the name of Seneca oil, and is a valuable liniment, possessing nearly all the virtues of arnica, etc.
2d. As a solvent of gums, gutta percha, India rubber, etc., it is said to be preferable to any other article.
3d. In the manufacture of gas it is said to be cheaper and better than the best fish oil.
4th. It is now used to a certain extent for lubricating purposes, but experiments are in progress which justify the belief that it can be made one at the best lubricators in the world.
5th. For export it is worth all it costs, and is already extensively shipped to foreign markets. But—
6th. As an illuminating oil it excels every thing yet produced. It is already adopted to a great extent by the various railroad lines, and government has just closed a large contract for it to supply the lighthouses upon our coast. In fact, it possesses twenty-five per cent more illuminating power than the best coal oil, and from the fact that it does not chill in the cold is far superior to the best sperm oil. In fact, Messrs. Editors, coal oil no longer pays for making, and soon the poor whale will be followed only for his bones.
Similar oil has been found in Canada, in Kentucky, in Ohio, and in Kansas, as well as in other countries of the globe, but this of Oil Creek is said to be equal, if not superior, to the best ever yet discovered, and it certainly is a source of wealth of which Pennsylvania may justly be proud.
There are many speculations as to the origin of this oil. Dr. Deck, of this city, has recently visited the region, and will no doubt soon enlighten the public as to his researches, but with no pretensions to scientific knowledge. I will give my guess, that, geologically speaking, this oil is all found below the bituminous coal beds, and I have little doubt but that it is the drainage from those beds. This is a crude theory, but, whether correct or not, it may provoke a better one from some scientific or practical geologist, and thus I shall gain a point, at least.
I should have stated in the proper place that this oil comes from the earth of a dirty-brown opaque color, and, on account of a large admixture of gas, readily takes fire. Several accidents have taken place in consequence of the use of lights about the wells and vats; barrels, oil and all have been clean burnt off in the conflagration. Upon refining it, however, it parts with all these offensive properties, losing from fifteen to twenty per cent, only in bulk, and yielding a fluid as pure and limpid as the best spring water, as free from explosive qualities as the best sperm oil, and worth seventy-five to eighty cents the gallon. So far nearly all the wells have been quietly monopolized by a large [p.812] and enterprising drug house in New York, and the business will soon be of such magnitude as to defy monopoly, and then there will be an abundance of light.
Yours, W.
---
Your communication the other day did not give the latest and most astounding information from the oil regions of Pennsylvania. The centre of the excitement is now at a place called Tidioute, about seven miles above the mouth of Oil Creek, on the Alleghany. Boring for oil has been progressing there with little success for some months, but about ten days ago a monster vein of pure oil was struck, which flows over the top of the five-inch pipe like a fountain, discharging oil at the rate of a barrel per minute. It has been plugged up the same as was the Williams well at Tetorville, and a half-inch pipe inserted through the plug, by which the oil is conducted to tanks near by, holding fifteen barrels each, and it will fill one of these every half-hour. The farmer named Cobell, who owns about one hundred and thirty acres of land where the discovery was made, can now take $200,000 for his farm, which six months ago he would have readily sold for $5,000. Already some seventy wells are in progress, and several others have found oil in moderate quantities. People are rushing into Tidioute, and the place is crowded already with many more than the dwellings can accommodate. Speculation is raging in lands, especially in the valleys of Pine and Oil Creeks and along the Alleghany, as well as in leases, and wells already commenced and with more or less signs of oil. Very few wells have been yet abandoned for want of encouragement, as the oil is found at depths varying from seventy-five to four hundred feet. The monster we above spoken of is but one hundred and twenty-four feet deep. So far the oil is said to net the producers twenty-four cents per gallon. But the same oil is intrinsically worth fifty cents a gallon for refining, as it readily brings seventy-five cents in the pure state. The latest report from the Tidioute well, August 21st, says it was still regularly discharging at the rate of thirty barrels per hour. This well is certainly one of the wonders of the world.
The Rev. Howard Malcolm, D.D., late president of the university of Lewisburg, Pa., and formerly a missionary to Burma, in a recent communication states that the Burmese Retrotician wells are about two and a-half miles from the Irrawady, and about three hundred miles from its month. There are four hundred of them in a space of twelve square miles. They are two and a half feet in diameter and three hundred feet deep, and have been worked for ages, without failing in. any respect. Each well yields about four hundred pounds of oil per day, besides large quantities of water. The temperature of the oil, as received in the buckets, is ninety degrees. It has been shipped so largely to England as to treble the price of it within a few years.
With such encouragement, you may well predict a "good time coming for whales."
Yours, W.

Image, not in original text, from source shown above. Text from letters in
N. Y. Evening Post
, reprinted in Littell's
The Living Age
(29 Sep 1860), Vol. 66, No. 852, 810-812.
(source)