The Cast Iron Plow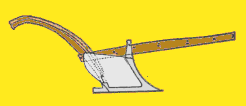 The Newbold Plow
The plow evolved from the all-wood designs of antiquity, to the use of iron parts. In 1720, the first English patent for a wooden moldboard sheathed with iron was issued to Joseph Foljambe. From that the evolution to plows made with cast iron moldboards and shares occurred in Scotland in 1785 by James Small. These cast iron plows were then imported to the U.S.
Charles Newbold, born in Chesterfield, NJ (1780), spent his teenage years investigating the use of cast iron to improve on the heavy iron-clad wooden plow then available. He was issued the first US patent for a plow on 26 Jun 1797. The plow was cast as one piece—the moldboard, share, and land-side all cast together—with wooden handles and beam added.
The Hanover furnace in Burlington County provided Newbold with the prototype which he demonstrated to a large number of local farmers in General John Black's orchard. Unfortunately, the farmers were unimpressed, being more concerned, as they thought, that the iron would poison the soil.
He continued to expend much effort on improvements, and spent much money introducing his invention, all without success. Although he provided an important breakthrough for farming, the actual plow itself exists as only a footnote in history.
Although this invention could increase the efficiency of farm workers, cast iron contained imperfections. The metal wore down or the brittleness of the cast iron caused it to break when it hit an obstruction. Cast iron could not be welded by blacksmiths. (Later, Robert Ransome, of Ipswich, England, in 1803 chilled the cast shares on the under side, so that they might keep sharp by wear.)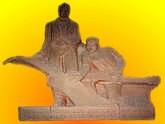 This relief is located in Moravia N.Y. The mural shows Jethro Wood standing by his invention, the iron cast plow of 1819.
(source)
David Peacock, also from New Jersey, was granted a patent on 1 April 1807 for an iron plow. Newbold sued for patent infringement winning $1500 in damages. Even so, Peacock's plow was an improvement, for the moldboard, share and point were cast in three separate pieces. These parts were joined, with the point of the colter entering a notch in the breast of the share. Thus if the point broke by striking a rock or root, the point alone could be replaced on Peacock's plow. If the point broke on a Newbold plow, the entire cast unit had to be discarded.
These gave way in 1819 to the design by Jethro Wood of Scipio, NY. On his plow, if the point broke by striking a root, spare parts were interchangeable, and it was not necessary to buy an entire new plow. Wood enjoyed more commercial success, but enjoyed little net profit as he had to spend the proceeds defending his patent from infringers.
The Jethro Wood plow was described in Harper's New Monthly Magazine of Dec 1874:
Jethro Wood, of Scipio, Cayuga County, New York, patented improvements in 1819. He made the best and most popular plow of its day, and was entitled to much credit for skill and enterprise, but lost his fortune in developing his invention and defending his rights. He however, overestimated the extent of novelty in his invention. He seems to have thought it the first iron plow. Its peculiar merit consisted in the mode of securing the cast iron portions together by lugs and locking pieces, doing away with screw-bolts and much weight, complexity, and expense. Wood did more than any other person to drive out of use the cumbrous contrivances common throughout the country, giving a lighter, cheaper, and more effective implement. It was the first plow in which the parts most exposed to wear could be renewed in the field by the substitution of cast pieces.
Although each of these inventors contributed to a major breakthrough for farmers, none of them enjoyed financial major financial success. That came when, in 1833, the benefits of steel were incorporated on a plow designed, manufactured, and astutely marketed by John Deere, of Moline Illinois.
References:
Travis Brown, Historical First Patents (1994), 146-147.
Harper's New Monthly Magazine (Dec 1874), 50, No. 295, 72.
Image of plow from the U.S. patent of 26 Jun 1797, colored by Webmaster. Text by Webmaster with reference to the sources shown in the footnote and links.