LAIKA
The First Space Dog
The first living creature in space was launched on a one way journey on 3 November 1957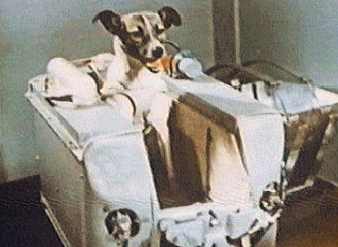 When, on 4 October 1957, the Soviet Union successfully launched Sputnik 1 as the world's first artificial satellite, the western world took notice. It was a 22-inch diameter sphere, weighing 190.5 pounds, that circled the Earth once aver 1 hour 35 mins.. It had an elliptical orbit with an apogee of 947 km, and a perigee of 228 km. It carried two transmitters, broadcasting telegraphic impulses on frequencies of 20.005MHz and 40,002 MHz. Each beep lasted a 0.03 second, separated by a pause of a similar length of time.
Although the launch of Sputnik was one of the greatest scientific milestones of the 20th century, it caused significant concern in the United States because any rocket capable of launching such a payload into low Earth orbit was equally capable of carrying a nuclear weapon as a nuclear inter-continental ballistic missile (ICBM). America was shocked by the sudden turn of events, and the cold war became a greater concern.
One month later, TASS, the Russian news agency announced the launch of Sputnik 2:
"In accordance with the IGY program for the scientific investigation of the upper strata of the atmosphere, and the study of physical processes and live conditions in the cosmic space, a second artificial earth satellite was launched in the Soviet Union on 3 November 1957."
The world saw a new display of power by the Soviet Union.
This second satellite was a 507-kg, 1.2 meters long cone. In addition to the scientific measuring instruments, a live animal was on board inside a pressurized cabin. The first space passenger was a female dog, originally known as Kudryavka ("Little Curly" in Russian, given by some sources as Kurdrajevskaya). The instruments analyzed cosmic radiation, recorded temperature and pressure, and other measurements, with data transmitted to Earth at the same frequencies used by the first Sputnik.
Soviet scientists and zoologists nicknamed her Laika (Russian for "Barker"), the name by which the world now remembers her. Laika entered the Russian space program having been captured as a stray from the streets of Moscow. Before Sputnik 2, rockets had been launched by both the Soviet Union and the U.S. with animals on board - mice, dogs and monkeys, but Laika was the first to reach the upper layers of the atmosphere in low Earth orbit. However, this good-natured mongrel took a one-way journey. The planned launch was not designed to be followed by a recovery from orbit.
In her temporary home, Laika was surrounded by soft padding and life-support equipment. She was held in a special harness that allowed restricted movement, and she was free to bark. Food and water were were provided by an onboard dispenser. Before launch, Laika's coat had been groomed with weak alcohol solution, and combed. Patches of her body were treated with iodine and a streprocide to receive electrodes connected to equipment monitoring her vital signs.
Laika's space trip inside Sputnik 2 began at the Baikonur Cosmodrome, northeast of the Aral sea. The satellite was launched on 3 November 1957 by a SS-6 rocket into a 65.3 degree orbit with an apogee of up to 1,671 km and a perigee of 255 km. This took the craft almost twice as high as the path of the first Sputnik.
Although Laika seemed to suffer no ill-effects during the ascent and initial entry into orbit, there are different stories about the remainder of her life. One says she lived about ten days until she ate the last food from her dispenser that was laced with poison. Others tell that she died when her oxygen supply simply became exhausted, or that after four days a gas for euthanasia was released in her capsule. Perhaps the truth is related by Gyorgi Grechko (a cosmonaut who was previously an engineer at the Korolev design bureau) who stated that Laika died from overheating that resulted from the loss of the thermal control system when the booster rocket failed to separate from the spacecraft.
Laika's fate, as presented in 2002 at the World Space Congress in Houston, Texas, was described by Dimitri Malashenkov of the Institute for Biological Problems in Moscow. He revealed that telemetry received from the Sputnik 2 indicated that five to seven hours after launch, there were no lifesigns from Laika. As soon as the fourth orbit, it was realized that Laika had died from overheating and stress. Such information was provided by medical sensors monitoring pulse rate (which had tripled during launch and took an extended time to return to more normal values). Laika had in fact survived just a few hours, and there was no truth in any orignal stories that the dog had lived through several days in orbit.
For six days after launch, while power lasted, additional data collected and returned to Earth, included the radioactivity and cosmic rays detected at the spacecraft's altitude. Sputnik 2 continued to circle the Earth for 163 days making over 2,000 orbits1. After travelling about 100 million kilometers, on 14 April 1958, the satellite dropped out of orbit and both the craft and Laika's body burned up in the Earth's atmosphere.
At Star City, outside Moscow, there now stands a monument to the Russian cosmonauts that perished during their missions. Laika is remembered, too. In a corner of the edifice, the image of a small mongrel dog, ears standing straight, commemorates the contribution made by the first animal to reach space, blazing the trail that was shortly followed by men and women on mankind's greatest adventure.
---
About a dozen dogs travelled into space on the Sputnik series of space missions between Nov 1957 and Mar 1966. The later flights in many cases ended with the safe recovery of the canine passengers. However accidents resulted in the loss of life for four dogs.
In chronological order, the Russian space dog missions were:
Laika ("Barker") — died Nov 1957 while on board Sputnik 2.
Bars ("Panther" or "Lynx") and Lisichka ("Little Fox") — died 28 Jul 1960 when the booster rocket exploded during a test flight related to the Vostok spacecraft.
Belka ("Squirrel") and Strelka ("Little Arrow") — were the first Russian dogs to safely return to Earth after a day in orbit on Korabl-Sputnik-2 (Sputnik 5) which was successfully launched 19 Aug 1960. They were accompanied by 40 mice, 2 rats and a various plants.
Pchelka ("Little Bee") and Mushka ("Little Fly") — perished during the return of Korabl-Sputnik-3 (Sputnik 6) when the retrofire occurred with the space vehicle in the wrong orientation. The satellite approached the Earth's atmosphere at too steep an angle and burned up. It was launched 1 Dec 1960.
Damka ("Little Lady") and Krasavka ("Beauty") — were safely recovered after their mission was aborted after the failure of the booster's upper rocket stage failed. Their Korabl Sputnik launched on 22 Dec 1960 never reached orbit.
Chernushka ("Blackie") — launched 9 Mar 1961 on Korabl-Sputnik-4 (Sputnik 9) for a one-orbit flight, accompanied by a guinea pig and a wooden dummy cosmonaut in preparation for the first manned flight the next month.
Zvezdochka ("Little Star") — launched 25 Mar 1960 on Korabl-Sputnik-5 (Sputnik 10) for a one-orbit flight, also accompanied by a wooden dummy cosmonaut (Ivan Ivanovich). This mission was the final rehearsal for Yuri Gagarian's pioneering Vostok 1 mission.
Verterok (or Veterok, "Little Wind") and Ugolyok (or Ugolek, "Little Piece of Coal") — travelled for 22 days on biosatelite Kosmos 110 (Voskhod 3) from 22 Feb to 16 Mar 1966, monitored throughout by video transmissions and biomedical telemetry. Their canine spaceflight duration record of 22 days still stands. It was not until the Skylab 2 mission of Jun 1974 that humans spent a longer time in space.
---
Over the next few years after the flight, several countries issued stamps in tribute to Laika.

Romania 1957

Romania 1957

Albania 1962

Poland 1964
---
References:
Russians in Space
, by Evgeny Riabchikov, publ. Doubleday (1971).
Encyclopedia of Space
, by Nicholas Booth, publ. Mallard Press (1990).
Space Almanac
, by Anthony Curtis, publ. Arcsoft (1990).
From Earth to the Moon:
Animals in Space
(HBO).
Space Exploration: From Talisman of the Past to Gateway for the Future.
Chapter 10: Sputnik - The Space Age Begins
, by John F. Graham (1995).
Charlie Brown's Doghouse:
Dogs In Space
. (Had the postage stamp images, now gone).
1. Sources differ, giving either 2370 or 2570 orbits.