Hans Goldschmidt

(18 Jan 1861 - 25 May 1923)




Aluminothermics
By M. Emile Guarini,
Engineering Magazine


Dr. Hans Goldschmidt,

School of Mines Quarterly
MINING DIGEST

from
Mining Magazine

(1904)

[p.43] FEW engineers have had charge of mining or milling plants located at remote points without feeling the urgent need of a quick, simple and effectual means of repairing castings or wrought work too heavy for the local forge. A gear, a heavy shaft, a connecting rod suddenly develops a flaw, a duplicate is not on hand, and production must cease until a new part has been brought from a distance.

The ability to fill just this need is one of the claims of a new process styled by its inventor "aluminothermics," and, since work done at many points in Europe and South Africa gives much foundation for these claims, there seems to be considerable reason for calling the matter to the attention of the mining profession.

Two articles have recently appeared on the subject—one by M. Emile Guarini in the January Engineering Magazine, and one by the inventor, Dr. Hans Goldschmidt. in the April School of Mines Quarterly.

According to M. Guarini, the process depends on the discovery that if a mixture of pulverized aluminum and a metallic oxide be ignited at a single point, combustion will proceed throughout the entire mass, without further supply of external heat, without the assistance of atmospheric oxygen and with a development of temperature of about 3,000 degrees centigrade. The reaction reduces the oxide, yields the metal it contains free and clear from carbon and leaves a scoria of aluminum oxide, or artificial corundum.

The oxide of iron is, of course, that most usually employed, and the mixture of aluminum and ferric oxide has been given the commercial name of "thermite." Thermite, on combustion, yields a soft homogeneous iron of such high temperature that, when poured upon broken iron parts which it is desired to repair, the surfaces over which it flows are softened and united intimately with it.

The reaction is carried on in magnesia crucibles incased in sheet iron, and the resulting iron is usually poured from beneath by unstopping a hole previously prepared in the bottom.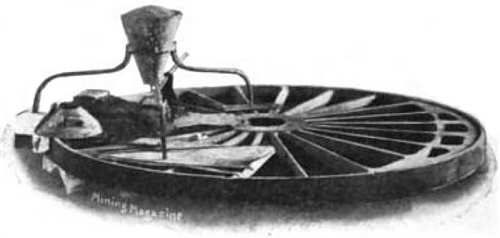 Repairing Locomotive Driving Wheel, Showing Complete Apparatus
To carry out the operation, the crucible is first thoroughly dried. The thermite is poured into it in quantities ranging from a few teaspoonfuls to many hundredweight, according to the requirements of the operation. A small pile of firing powder, consisting of aluminum and peroxide of barium is then placed on top. The operator then puts on a pair of smoked glasses and fires the powder by means of a match fuse, or by a bar of iron heated red hot. The reaction is complete in less than a minute, and more of the reagent may be added during the reaction if found necessary.
One of the most important uses already made of thermite is the welding of iron and steel pipes and tubes. The faces to be welded are dressed and then pressed together by a clamp. The union is surrounded by a mold and into this mold the incandescent product from the thermite is poured. The metal of the tubes are thereby raised to welding temperature and the union thus effected.
The operation is particularly useful in making bends or coils. Defects often develop after the bending is complete and the otherwise finished piece has to be rejected. By the use of thermite, the defective part is simply cut out and replaced by a sound section. Bosses for taps or branches can also be speedily added in this way.
The welding of rails can be accomplished by the use of thermite, M. Guarini claims, in even less time than it takes to make a good joint with bolts and fish-plates. The resulting joint costs less and has several advantages, among them being the possibility of obtaining a kind of splint of soft malleable iron forming an integral part with the [p.44] foot of the rail, in addition to the weld itself. This form of joint is, of course, especially advantageous to electric railways, as it entirely dispenses with the use of bonding wires.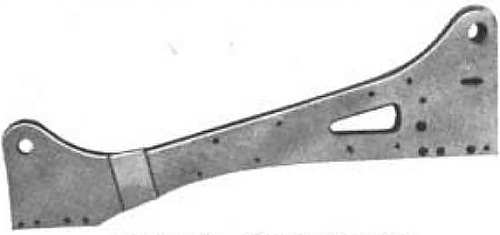 Repair of a Locomotive Part
Large shafts have been quickly welded with thermite, and defective, worn and broken machine parts, of cast iron, steel and wrought iron, have all been repaired with it. Bearings of rolls may be welded, and gear teeth may be mended or replaced. In fact, M. Guarini claims that welding or casting of steel parts may be accomplished anywhere and instantly, and that the process admits of welding cast iron to steel and vice versa, without the use of highly skilled labor and usually with but one or two workmen. Numerous illustrations are given in each article of miscellaneous repairs and welds, among them being locomotive drive wheels, steamship stern posts, connecting rods, heavy crank shafts, etc., as high as seven hundredweight of thermite having been used for a single weld.
Metallurgical uses are also claimed for thermite in the prevention of piping in the tops of steel ingots and in the introduction of desirable elements into a ladle of metal about to be cast.
According to Dr. Goldschmidt, thermite yields 50 per cent of mild, greatly overheated steel, containing about 0.1 carbon and having a temperature of about 3,000 degrees centigrade (5,400 degrees Fahrenheit). This steel can be hardened if desired by the use of manganese and other hardening elements. A Pennsylvania Railroad test of the steel produced by thermite gave the following results.
ANALYSIS: Carbon 0.102%; Manganese 2.330%; Phosphorus 0.070%; Silicon 1.227%; Sulphur 0.034%.
PHYSICAL TESTS: Tensile strength, 91,600 lbs. per sq. in.; Elongation, 21.5% in 8 inches; Fracture, silky.
The use of thermite for welding street railway rails is rapidly growing throughout Europe, having been adopted in the past three years by railroads in over 40 towns, including Paris, Havre and Rouen, in France; Brunswick and Bremen, in Germany; Genoa and Milan, in Italy, and Leeds, England Labor costs, at $1.50 per diem, amount to about 10 cents per joint. One crucible will stand about 25 reactions, and wear and tear consequently costs but a few cents per joint.
The strength of the weld is about 80 per cent of the original material, and by casting a boss outside the section the weld can be made stronger than the original.
Text and photos from
Mining Magazine
(Jul 1904),
10
, 43-44
(source)
. For the "Analysis" and "Physical Tests", the tabular format of the original text is instead shown in two lines, with the symbol used instead of "per cent" and "Phosporus" spelling corrected to "Phosphorus".
See also:
25 May

-

short biography, births, deaths and events on date of Goldschmidt's birth.