(source)

Richard P. Feynman

(11 May 1918 - 15 Feb 1988)




Richard Feynman on the French Curve
A Reflection on "Thinking Inside the Box"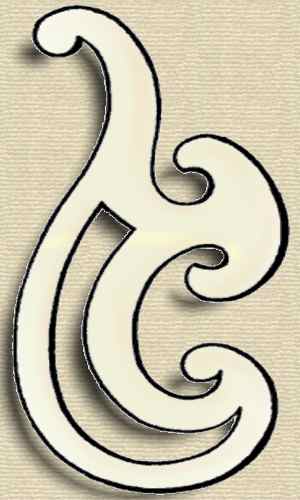 French Curve
Richard Feynman, the Nobel Prize-winning physicist, was adept at "thinking outside the box" but also a master at communicating the ideas of physics in such a comprehensible way that he was a popular lecturer to undergraduates.
In his book, Surely You're Joking, Mr. Feyman, he prods us to be more familiar with what we already know.
Feynman makes this point when he recalled how, among the tricks he enjoyed playing on people, was one using a French curve during a mechanical drawing class while he was at M.I.T. Someone held up one of these funny-looking, curly plastic tools for tracing a variety of smooth curves, and asked, "I wonder if the curves on this thing have some special formula?"
Taking but little time to think, Feynman quickly answered with, "Sure they do. The curves are very special curves." With a serious air, he began slowly turning his French curve in the air, demonstrating that "The French curve is made so that the lowest point on each curve, no matter how you turn it, the tangent is always horizontal."
His classmates were intrigued, and each began holding a pencil tangentially against the lowest point of their own French curve, and discovered it was indeed horizontal, for every position to which they rotated the tool. The freshmen were interested, surprised, even excited, as if this was a revelation.
But Feynman knew that all of them had taken enough calculus to have "learned" about the maxima and minima of curves, and how the tangent drawn at the highest or lowest point of any curve will always have a zero slope and be horizontal. Oh, of course!
He had played a joke on his classmates, by drawing attention to the shortcomings of knowledge gained by rote and only comfortably applied in familiar textbook problem-solving scenarios. Yet how much solid understanding results from this kind of learning experience? When an opportunity to apply what they "know" comes in an unfamiliar setting, people may sadly show how fragile their knowledge really is!
We can also notice that with his anecdote, Feyman reveals his own early talent with a brain trained to follow a flexible path of thought. This is one of the reasons we can admire him as a great physicist and great teacher. However, taking his point to heart, we should more often practice thinking "inside the box" and develop our own mastery of knowledge by looking for new ways to understand what it is already at hand. This is especially true to interpret—to feel and see—mathematical equations as having a physical meaning wherever appropriate. This skill marks the most successful scientists and engineers.
— Ian Ellis
Ref: Richard Feynman,
Surely You're Joking, Mr. Feynman
(1985), 36-37.
(source)