(source)

John Gates

(8 May 1855 - 9 Aug 1911)




John W. Gates - The Wire King
from
Munsey's Magazine

(1906)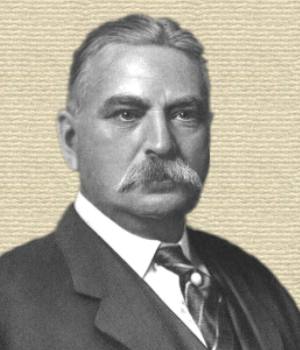 [p.92] As a boy, Gates grew up on an Illinois farm. He was energetic and precocious. Two years before he became a voter he had fallen in love with an Illinois girl, and married her. At that time he was "Johnny" Gates, the manager of a little hardware store in a farming village.
Now there was in De Kalb, Illinois, a man named Isaac Ellwood, who was trying to sell a new commodity called barbed wire. At his wife's suggestion, Ellwood had bought the right to make this wire from a Missouri blacksmith. His trouble, he found, was not in making barbed wire, but in selling it. It was a novelty, and cattlemen considered it too flimsy to be of any use. At this juncture Ellwood met Gates, was struck with the young man's geniality and readiness of speech, and sent him out to sell barbed wire in Texas on a salary of twenty-five dollars a week.
This Texas trip made Gates. It also made barbed wire. The Texas cattlemen had never seen barbed wire before, and they ridiculed it.
"That stuff wouldn't hold a Texas steer a holy minute," said they.
Gates was put on his mettle. "I'll show you whether it will or not," said he.
This was in the picturesque town of San Antonio, which is dotted liberally with small open spaces, or plazas. Gates hired the nearest plaza, and got together a drove of twenty-five of the wildest Texas steers that could be found. Then he fenced his plaza with barbed wire, put the steers inside, and gave the cattlemen a free show. The steers charged the wire, and were pricked by the barbs. They shook their heads and charged again, with the same result. After two or three of these defeats they huddled together on the inside and tried to think it over. Gates sold hundreds of miles of his wire that day at eighteen cents a pound.
In a few years he had a barbed-wire factory of his own. One day his factory burned down. Fifteen minutes after his foreman had reported that it was totally wrecked, he had entered into partnership with William Edenborn, and was filling orders as usual. Six years later he made his first large sum of money, a hundred thousand dollars, by a big sale of English steel. Every dollar that he could lay his hands on went into wire. No one at that time saw as clearly as he that wire was henceforth to be the nerve of civilization, as steam and electricity were to be its muscle and steel its bone.
In 1892 he merged several large wire companies and became the wire king of America; and since then millions have been his units. Three years afterward he was the president of the Illinois Steel Company, which in 1898 was enlarged into the two-hundred-million-dollar Federal Steel Company. No one except Carnegie stood above him in the steel trade. During the previous year he was said to have cleared twelve million dollars in Wall Street, in connection with his American Steel and Wire Company; and from that time the lure of the ticker has drawn him into many speculations.
Gates is an extreme type of the American "hustler." Like most steel men, he [p.93] is short in stature, and as energetic as a cyclone. He is a stanch friend and a first-class enemy. He believes in American business as a Saint Gaudens believes in art—as an Edison believes in electricity. He is an organizer, a promoter, a boomer—a "bull," as Wall Street would say.
Gates is a good maker and a good spender of money. It is a fact, not generally known, that he has an unusually fine picture gallery in his New York apartments. This gallery contains two specially notable groups. One is a fine collection of those quiet landscapes in which Corot, Rousseau, Daubigny, and their colleagues embodied the soul of the Barbizon woods and fields; the other is a group of the stately English ladies of a century ago who were immortalized by Reynolds, Romney, Gainsborough, Hoppner, and Lawrence. Beyond these, his taste seems to range widely, from Rembrandt and Rubens to such moderns as the German Grüzner, the Italian Asti, and the American Van Boskerck.
Unlike several other steel barons, who rose to power on the backs of their friends, Gates, as he battled and buffeted his way to the front, always made a path wide enough for his chums as well as for himself. The Gates coterie includes John A. Drake, William Edenborn, John Lambert, Alfred Clifford, and Isaac L. Ellwood. No association of capitalists plays the game of finance with more dash and enthusiasm. They are free lances, ready for a tilt with the biggest men in the field. Their capital is scattered in all manner of enterprises. It was the Gates group, for instance, that gave New York its Luna Park and its Hippodrome.

Portrait added (not in original text) from source shown above. Text from Herbert N. Casson 'The Romance of Steel', in Munsey's Magazine (Oct 1906),
36
, 92-93.
(source)
See also:
8 May - short biography, births, deaths and events on date of Gates's birth.
Bet a Million: The Story of John W. Gates, by L. Wendt. - book suggestion.