(source)

Henri Giffard

(8 Feb 1825 - 14 Apr 1882)




Aerial Navigation
(Excerpt from a lecture to the students of Sibley College of Mechanical Engineering and Mechanic Arts, Cornell University; delivered May 2, 1890.)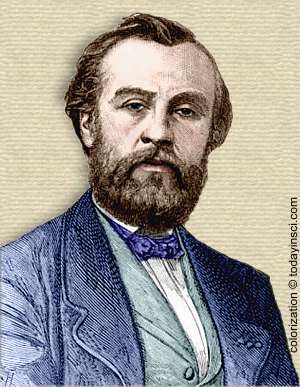 [p.3] Until quite recent years, the possible solution of the last transportation problem remaining for man to evolve—that of sailing safely through the air—has been considered so nearly impracticable that the mere study of the subject was considered as an indication of lunacy.
And yet such measurable success has recently been achieved as to warrant good hopes for the future, and it is believed that speeds of 25 to 30 miles per hour, or enough to stem a wind less than a brisk gale, are even now in sight.
This is not unusual in the history of inventions. They are first proposed by the men of imagination, the poets and the dreamers, and next they are experimented upon by the more imaginative inventors, until at last some glimmer of success or some powerful incentive induces scientific men to investigate the principles, and ingenious inventors to endeavor to solve the problem.
Thus, it we are to believe ancient fable and history, desultory attempts to fly through the air followed closeupon the invention of the land chariot and of the marine sail, but the mechanical difficulties in the way are so great that it is only since light primary motors have been evolved that any success at all has been achieved ; and even now the students of the problem are divided into two camps or schools, each of which expects flight to be compassed by somewhat different apparatus. These are:
1. Aeronauts, who believe that success is to come through some form of balloon, and that the apparatus must be lighter than the air which it displaces.
2. Aviators,* who point to the birds, believe that the apparatus must be heavier than the air, and hope for success by purely mechanical means. …
AERONAUTS.
[p.4] This great step (as it is believed to be) toward a possible solution of the problem at first excited the wildest hopes. Many believed the navigation of the air to be an accomplished fact. These hopes faded: it was soon found that an ordinary spherical balloon was at the sport of the wind; and all sorts of impracticable devices were tried to control its motions, save till quite recent years (1852) that of furnishing it with a screw and an energetic motor.
While it is possible to impart low velocities, in calm air, to any kind of a balloon, yet the motive power which it could lift has been so small, and the consequent speed so inferior to that of ordinary winds, that until 1884 no balloon had ever come back to its starting-point. …
[p.7] It is clear that nothing was to be expected from any attempt to drive spherical balloons; that the resistance must be diminished in some way; and yet it took 79 years for aeronauts to realize the fact; for although General Meusnier had proposed them, and Robert Brothers had experimented with elongated balloons as early as 1784, it was not until 1852 that Henri Giffard, the future inventor of the injector†, laid down the foundation for eventual success by ascending with a spindle-shaped air ship driven by a steam-engine.
GIFFARD'S BALLOON OF 1852.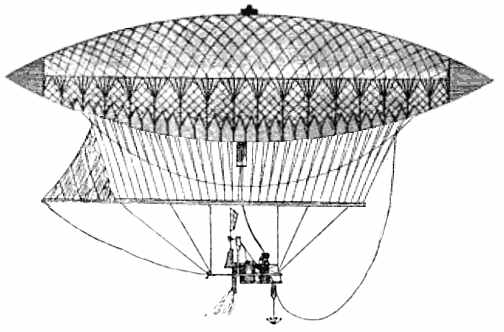 On September 24, 1852, Giffard, then a young engineer 27 years of age, ascended from Paris in an elongated balloon filled with ordinary coal gas, driven by an aerial screw propeller actuated by a steam-engine of his own designing. He was at that time quite poor; but having been possessed since the age of 18 with the conviction that success was possible, he had communicated his enthusiasm to two of his college friends, who possessed limited means, and the three had contrived, amid many discouraging difficulties, to build and to equip this first navigable balloon.
It was in shape a symmetrical spindle, 144 ft. long and 39 ft. in diameter. The screw was three bladed and 11 ft. in diameter. The steam-engine was of 3 H. P., and weighed with the empty boiler 330 lbs., or 110 lbs. per H.P. In proportion to its power, this engine was much lighter than any previously built; but it was the utmost weight of motor which the balloon could lift, after making due allowance for the weight of the apparatus, its appurtenances, the aeronaut, the fuel, and the water. For the two latter 678 lbs. were allowed, of which 132 lbs. were in the boiler. Coke was employed as fuel, and the danger of setting on fire or exploding the gas escaping from the balloon was guarded against by surrounding the grate with a tight ash-pan, which again was surrounded with a vertical flue sheet. Thus no flame came into contact with the outer air, and the products of combustion, cooled in the return flue, were projected downward through an inverted smoke pipe, into which the steam from the cylinder was exhausted.
The cubic contents of the air ship were about 88,300 cub. ft., and being inflated with coal gas, its lifting power was 3,978 lbs. Had pure hydrogen been used instead, the lifting power would have been about 6,160 lbs., and a heavier motor could have been used; but this would have [p.8] made little practical difference in the results as to speed. Fig. 1. is a side view of the entire apparatus. The surplus lifting power being only sufficient to carry up one man, Giffard went up alone, at about 5.15 in the evening. The wind on the day previously selected for the ascension blew with considerable force, and Giffard knew from his calculated resistances that he could not hope to stem it; but having attained an altitude of about 5,000ft., he set the engine in motion. With no revolutions of the screw per minute, he was enabled to get a proper speed of the apparatus, which he estimated at 4.27 to 6.70 miles per hour, so as to deflect and turn the balloon from the line of the wind; and thus, while satisfied that this first air ship was quite unable to cope with the wind that day or with those generally prevailing, he yet was enabled to announce his deliberate conclusion that ultimate success was certain with a larger balloon and a more energetic motor.
He further expressed his belief, as a result of this experiment, "that the danger resulting from the juxtaposition of fire and an inflammable gas might prove to be quite illusory;" but yet no other aeronaut since his time has dared to repeat the experiment.
He came down in safety just after dark, though not without some danger. It was clear that in order further to reduce the resistances a still more elongated balloon [p.9] would be required, and he resumed his studies and designs for further experiments with unimpaired enthusiasm; but the means of himself and friends were so far exhausted that it was only in 1855 that he was enabled to make a second trial with what he considered an improved apparatus.
This new balloon was 230 ft. long and 33 ft. in diameter, being thus 7 to 1 instead of 3⅔ to 1, as in the former experiment. This change, which was made to reduce the resistance, resulted in such longitudinal instability as nearly to cost Giffard his life. He was on this occasion enabled to take up a companion (M. Gabriel Yon) to assist in the manœuvres, but notwithstanding this, the balloon would not keep a level keel. The wind blew, and although he attained greater speed than on the former occasion, he was unable to stem the current for more than a few minutes at a time, with all the power of his engine. One end of the balloon tipped up, and the flow of the gas toward that end aggravated the evil. The valve was at once opened, and the aeronauts came down as rapidly as they could; but just as the ground was struck with considerable violence, the gas bag, tipping up more and more, slipped out of the netting and went to pieces.
This accident did not alter Giffard's conviction of ultimate success, but he determined first to make a fortune. He shortly thereafter invented the injector and eventually became a millionaire, while at no time did he abandon his aeronautical studies.
In order to work out practically all the details as to gastight envelopes, stability, appliances, manufacture of hydrogen, etc., he built in 1867 the great captive balloon for the Paris Exposition of that year. In 1868 he built one in London, and again in 1878 he carried out further improvements in a new captive balloon at the Paris Exposition, this being the one which has already been alluded to.
At length, in 1881, he determined upon the construction of a gigantic air ship, to contain 1,766,000 cub. ft. of hydrogen and to cost $200,000, out of which he expected a speed of nearly 45 miles per hour; but he was near the end of his career. First his health failed, and then his eyesight; he became a recluse; and finally, discouraged and maddened by physical pain, he died by inhaling chloroform in April, 1882.
Giffard was thus the first to drive a balloon with a motor, and this he did with a steam-engine. It is probable that men before now have gone into a powder magazine with a lighted torch and have come out in safety; still the practice [p.10] is not to be commended. So Giffard went up with a lighted steam furnace under a gas bag open to the air through its lower valve and he came down safely not once only, but twice; and yet other aeronauts believe the practice so dangerous that not one thus far has repeated the experiment.
[p.3 footnote] * From avis, a bird. This comparatively recent French term seems so appropriate as to warrant its adoption into English.
[† Webmaster note: The injector referred to in the text was an invention that made Giffard both famous and very rich. Its function was to maintain a feed of water into the boiler of a steam engine. It was such a practical solution to the problem of injecting water against the back-pressure of steam already in the boiler that it was widely adopted for steam locomotives.]
Engraving of Giffard, not in original text, added from another source as shown above. Lecture by Octave Chanute, C.E., from Chicago, serialized as 'Aerial Navigation', in The Railroad and Engineering Journal, Vol. 64, with the first part in Jul 1890 issue, 316-318. Subsequently reprinted by the publisher in book form, Octave Chanute, Aerial Navigation (1891). This text excerpted from pages 3, 4 and 7-10. Figure originally appeared in the journal on page 317, and in the book on page 8.