(source)

Oliver Goldsmith

(10 Nov 1730 - 4 Apr 1774)



Oliver Goldsmith - Sciences Serve Us For Oars.
Illustrated Quote - Large (800 x 600 px)
— Oliver Goldsmith
from a Chinese Philosopher', LXXXIII.
The context of Oliver Goldsmith's "Sciences Serve Us For Oars" quote
After receiving a B.A. degree in Dublin (Feb 1749), Oliver Goldsmith began, but exhausted his funding before completing study at the medical school in Edinburgh. Instead he ended up London, working at various jobs, including an apothecary's assistant. From 1759, he found he had a marketable skill in writing, and became an essayist published in various journals. A series of his Chinese Letters essays were collected and published in book form as Citizen of the World (1762). In these, he satirized Western society in the commentary and philosophy of a ficticious Chinese visitor to London.
The concluding paragraph of his Letter LXXXIII, ('From Lien Chi Altangi to Hingpo, by way of Moscow') began with these two sentences:
"The world is like a vast sea, mankind like a vessel sailing on its tempestuous bosom. Our prudence is its sails, the sciences serve us for oars, good or bad fortune are the favourable or contrary winds, and judgment is the rudder; without this last, the vessel is tossed by every billow, and will find shipwreck in every breeze."

From concluding paragraph, 'Letters from a Chinese Philosopher', LXXXIII, first published in journal
The Public Ledger
collected in
The Miscellaneous Works of Oliver Goldsmith
(1762, 1809), 41.
(source)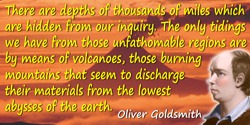 Volcano Sunset - Mount Shishaldin, Japan
(source)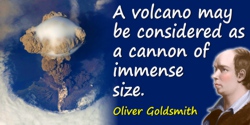 Eruption of Sarychev volcano, Matua Island, Russia, seen from International Space Station (12 Jul 2009)
(source)
See also:
Science Quotes by Oliver Goldsmith.
Oliver Goldsmith - context of "Mankind like a vessel on tempestuous sea…Sciences serve us for oars" quote - with medium image (500 x 350 px)