(source)

Arnold Henry Guyot

(28 Sep 1807 - 8 Feb 1884)




Arnold Henry Guyot
Biography from Cyclopaedia of American Literature (1866)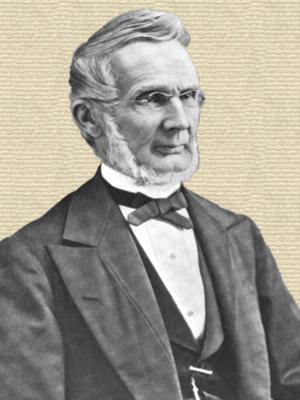 In 1855, Arnold Henry Guyot was appointed Professor of Physical Geography [at Princeton College]. This eminent naturalist was born in Switzerland in 1807. He was early aquainted with Agassiz, and associated with him in the study of natural history. He studied theology for a while at Berlin, but his scientific tastes determined his future career.
He made profound and laborious investigations into the geology of the Alps, in reference, particularly to the transport of boulders, the results of which were published in Paris in 1848. He was in the mean time Professor of History of Neufchatel. The unsettled condition of the country in the political revolutions of the time induced him to emigrate to the United States.
He came to Boston, and in the winter of 1848-9 delivered a course of lectures in the French language on the relations between physical geography and history, which were translated by Professor Felton, and collected into a volume, entitled, Earth and Man (Boston, 1849). Mr Guyot, subsequently, was much engaged in a course of tours for scientific investigation through New England, New York, and North Carolina, and in the delivery of lectures, under the direction of the Massachusetts Board of Education, in the State Normal Schools. He has been also employed by the Smithsonian Institution in the organization of a series of meteorological observations.
Images added (not in original article) from sources shown above. Photo of Guyot from William Jay Youmans (ed.),
Pioneers of Science in America: Sketches of Their Lives and Scientific Work
(1896), opp. 492. Text from Evert Augustus Duyckinck,
Cyclopaedia of American Literature: Embracing Personal and Critical Notices of Authors, and and selections from their writings. From the earliest period to the present day; with portraits, autographs, and other illustrations
(1866), 27.
(source)
See also:
28 Sep - short biography, births, deaths and events on date of Guyot's birth.